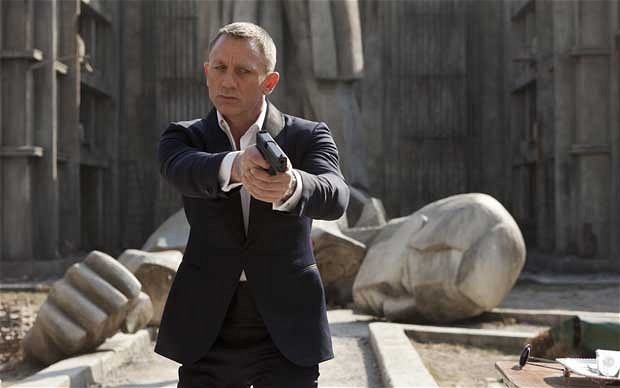 Skyfall, the 23rd instalment in the James Bond film franchise, is killing box office records after the film went straight to No 1 in 25 markets overseas and took $77.7m (£48.3m) worldwide in its first weekend. Almost half of the box office came from Britain, where £20.1m was made from Friday to Sunday in more than 500 cinemas.
This would give Skyfall the biggest opening weekend for a film in 2012 and make it the second highest weekend box office opening in UK history, after Harry Potter and the Deathly Hallows Part Two made £23.8m when it was released in July 2011.
The film's launch in Imax cinemas, the first in the Bond series to do so, went someway to compensating for the film not being in 3D. Skyfall accrued $3.5m from opening in 79 Imax cinemas in 15 countries.
Skyfall cost an estimated £93m and features the iconic spy facing off against a maniacal cyberterrorist in Istanbul, Shanghai and the Scottish Highlands.
Directed by Sam Mendes, it is the third film with Daniel Craig playing 007. Of his previous outings, Casino Royale achieved a total global box office of $594m while Quantum of Solace managed $586m. Deadline reports that this makes the launch of Skyfall 30 percent bigger than James Bond's previous movie in 2008, and means it is more than likely to beat that film's overall box office worldwide.
Naomie Harris, who stars in Skyfall: "Wow!!! #Skyfall opened in 25 markets this weekend and grossed an incredible $77.7 million, it's #1 everywhere!!"
Based on the popular spy novels by British author Ian Fleming, the release of Skyfall coincides with the 50th anniversary of the first Bond film, Dr No, in 1962, where Sean Connery played the MI6 secret agent.
The new Bond movie has won rave reviews, with 94 percent of critics favouring it, according to reviews aggregator Rotten Tomatoes. Many have praised the performances of Daniel Craig, Judi Dench and Javier Bardem, as well as an emotionally charged storyline that takes equal time developing character as it does delivering exhilarating actions sequences.
In the IBTimes UK review we said: "Skyfall is the smartest Bond film for many years. [Not] since On Her Majesty's Secret Service has the veil been lifted quite so high on Bond's emotional life and scarred past."
The film had difficulties reaching the screen because of bankruptcy at studio MGM (Metro-Goldwyn Mayer). It opens in the United States on 9 November.