George Osborne's note-free speech to small business owners in London was going smoothly until one of entrepreneurs challenged the chancellor over Google's controversial tax deal with HMRC. Antonio Falco, a sales and business consultant, urged the top Tory for a "level-playing field".
"I don't mind being in a tough game, all I want is the same rules," the regional chairman of the Federation of Small Businesses (FSB) in Surrey and West Sussex, protested. The plea came after it emerged that the US technology giant had given the government £130m ($187m) in taxes dating back to 2005.
Osborne came under fire after he described the settlement, which reportedly amounted to around 3% per year in corporation tax (instead of 20%), as a "victory" for the Conservative administration. After Falco grilled the chancellor at the FSB's policy conference on 2 February, Osborne blamed international tax rules for being out-of-date.
"The tax laws which we use to tax multinational corporations were devised in the 1920s. We've been trying to get an international agreement to change those laws and that international agreement is coming. Only last week, 30 other countries signed up to exchange information on tax affairs of companies," he argued.
Osborne also warned that a levy on turnovers, instead of profits, would be bad for business. "Before we rush to another solution, I would try to make corporation tax work, which is a tax on profits," the chancellor added. He cited his new "diverted profits tax", which is designed to allow the government to tax multinationals if they are shown to have "real economic activity" in the UK.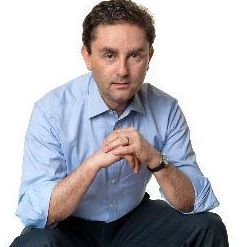 But Falco was "sceptical" when IBTimes UK asked the small businessman what he thought of Osborne's reply. "It's very difficult what he's trying to do, he's trying to keep everyone happy. He has to keep the corporates happy," the FSB man said.
"However, what has to happen is there has to be a bit more even handiness. It's getting to the point where people are sick of the excuses, sick of no solutions and who knows what's going to happen."
Labour's shadow chancellor John McDonnell has also pressed the chancellor on the issue by, among other things, publishing his own tax return and urging Osborne to do the same.
"It's time that Osborne got a grip of this situation as it's becoming a daily occurrence that we read yet another multinational is not paying their fair share in tax meaning other taxpayers have to shoulder the burden," McDonnell argued.
"Osborne should use the EU negotiations not to cut the pay of people on low incomes but to get a deal at EU level on tax so that we are getting the tax status of these big multinationals under control."