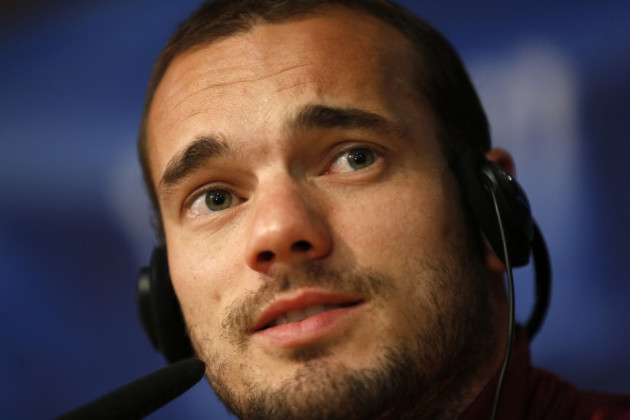 Chelsea have been urged to sign Galatasaray midfielder Wesley Sneijder in this summer's transfer window by Netherlands boss Louis van Gaal.
Sneijder only joined the 19-time Turkish champions in January but has flirted with the idea of reuniting with former boss Jose Mourinho, whom the 29 year old won the treble with while at Inter Milan in 2010.
Mourinho appears likely to invest in the transfer market this summer having re-joined Chelsea for a second spell in charge at Stamford Bridge, and the Portuguese boss has a reputation for signing former players in their droves.
And Van Gaal, who stripped Sneijder of the Netherlands captaincy prior to handing the armband to Robin van Persie, says a move to the Premier League would suit his logistical purposes.
"Sneijder to Chelsea is just a rumour at the moment," Van Gaal told Algemeen Dagblad.
"But it would be much easier for me to keep an eye on his progress if he were to make the move to Chelsea.
"I could be at Chelsea within an hour from Netherlands and Mourinho is a friend of mine."
Sneijder helped Galatasaray into the Champions League quarter-final where they eventually fell to Mourinho's Real Madrid, and despite having spent six months in Turkey, Sneidjer says he has remained in contact with his former boss.
"I have a great relationship with Jose Mourinho," said Sneijder.
"We have kept in contact since our days at Inter Milan. Does Chelsea need a playmaker? I'm not sure. In football you can never be certain of what will happen next but I'm very happy in Turkey."
Meanwhile, Galatasaray president Unal Aysal is open to parting ways with Sneijder despite his short-lived career with the club, and says an offer of €15m would tempt them to sell the ex-Madrid playmaker.
"I have been following the rumours about Sneijder, but we have not received an offer for him," Aysal told Turkish newspaper Sabah.
"If an offer in the region of €15 million (£12.75 million) comes in, we might decide to sell him though."