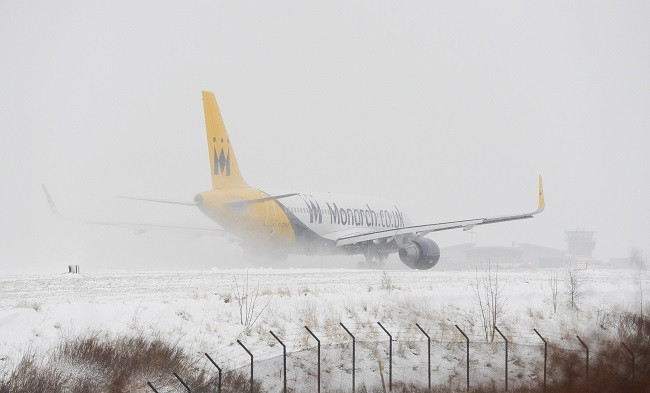 Snow has caused disruption across the UK and forced a major airport to close this morning.
Commuters faced difficult driving conditions in parts of Northern England, particularly in Lancashire and Yorkshire.
Drivers were forced to leave their cars after becoming trapped in snow at junction 27 of the M1 motorway.
Leeds Bradford Airport was forced to close this morning after earlier two heavy snowfalls clogged the runways and taxiways.
The airport, however, reopened at 11am.
Airport spokesman,Tony Hallwood, said: "Our snow clearing teams have been working around the clock to make sure the snow was cleared from the runways and taxiways.
"We are now ready for action and received our first flight at 11am."
Rail passengers also suffered disruption to their travels after a derailed train led to Heathrow Express and Heathrow Connect Services between the airport and London being cancelled.
The service is now running normally.
South West Train services to and from London Waterloo were also disrupted due to a signal figure as well as trains to Gatwick Airport, after the problem occurred at Guildford in Surrey.
Yellow warnings for snow remain in place along the west coast of Scotland, Northern Ireland, north-west England and Midlands.
Leon Brown, meteorologist at The Weather Channel UK said: "Today there is an area of sleet and snow across the north Midlands and northern England with some reports of moderate to heavy snow over Derbyshire and central Pennines, but this will gradually become lighter."
West Yorkshire police urged motorists to exercise caution on the roads, tweeting: "Please take extra care when driving today in these cold & icy conditions. We want you to get to your destination safely."