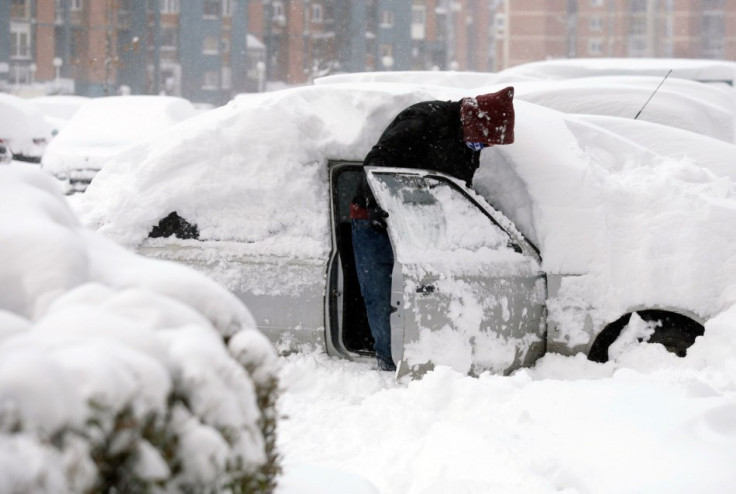 The UK Meteorological office has predicted a further 10cm (4 inches) of snow and ice over many parts of the country, during this weekend. Temperatures are expected to drop as low as -11 degrees Celsius. The daytime temperature is not expected to rise above 2 degrees Celsius.
Meanwhile, snow showers are expected to over central, southern and eastern England. These, however, are expected to be confined to southeast by Saturday evening. The snowfall over southeastern UK will die out by Sunday.
The eastern parts of the country will probably stay as cold for much of next week, while the western regions could witness more in the way of rain and that too on the milder side. The cold snap is expected to last until Tuesday.
"As this front moves in from the west it will come up against cold air and we're likely to see a mixture of rain, sleet and snow across the UK. It's a finely balanced situation, so there is some uncertainty about which areas will see the most significant snowfall, but at the moment the risk is highest in central and eastern areas where we could see up to 5-10cm of snow," said Paul Gundersen, Deputy Chief Forecaster at the Met Office.
"With this risk of snow and ice over the next few days it is important people stay up to date with our weather forecasts and warnings for the latest information," he added.
Severe weather warnings have already been issued.
Saturday's League One football matches at Bournemouth, Bury, Colchester, Notts County, Oldham and Preston have all been postponed.
Finally, a BBC report has confirmed that British Gas engineers were on stand-by, in all-weather 4x4s. Furthermore, the Department for Transport said Britain's salt stocks stood at more than 2.4 million tonnes - a million more than last year.