Sochi 2014: anti-Kremlin Satirist has Car Vandalised with Giant Wooden Penis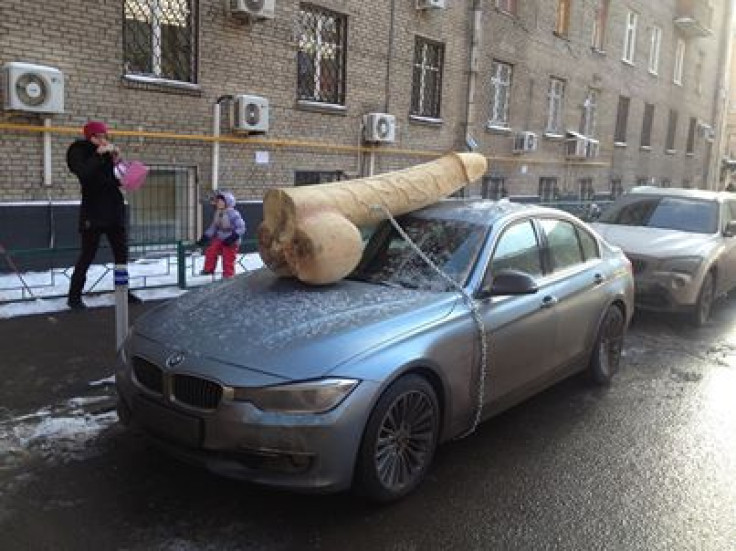 An anti-Kremlin satirist had her car vandalised with a giant wooden penis days before the opening of Russia's controversial Winter Olympics in Sochi.
Katya Romanovskaya found the 200-lb (90kg) erect phallus chained on top of her 3-series BMW, parked outside her Moscow flat.
"Finally, the day has come when my work has been noticed and appreciated," she wrote on Facebook after discovering the giant member last week.
The massive penis was reportedly carved out of a single tree trunk and eventually attracted the attention of dozens of passers-by who stopped to take a picture.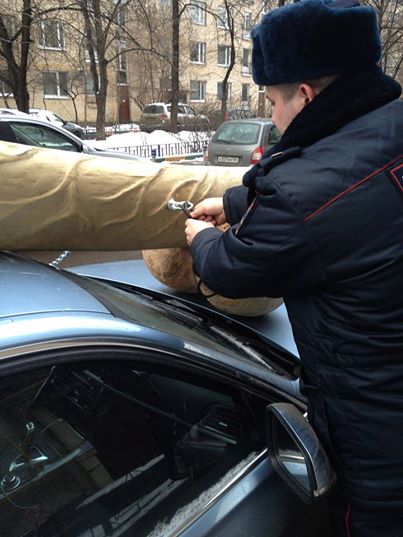 "You should have seen how carefully carved and polished each vein was," Romanovskaya wrote.
"I filed a complaint with the police who cut the chain. However they refused to remove the dick from the roof: 'now it's your property,' they said."
Romanovskaya is part of a celebrated satirist duo with her friend Arseny Bobrovsky.
The two were revealed last year as the creators of the popular @KermlinRussia spoof Twitter account, which delivers daily digs at Putin and the Kremlin to more than 700,000 followers
@KermlinRussia often touches on homophobia in Russia, especially in the light of the country's anti-gay propaganda law backed by Putin's United Russia party and approved last year.
The law has drawn international criticism and sparked a boycott against the Sochi Games by the LGBT community.
"At the Olympic Games in ancient Greece they had no electricity. Yes, and all the competitors were gay," the satiric duo tweeted recently.
According to New Republic magazine, the pro-Kremlin youth group Nashi was behind the vandal act.
© Copyright IBTimes 2023. All rights reserved.