Russian skier Maria Komissarova will never walk again after a serious accident at the Sochi Winter Olympic Games.
The 23-year-old freestyle skier suffered a fractured spine in a crash during a training run for the ski cross event in Sochi at the Rosa Khutor Extreme Park.
After being treated at the scene she was transferred to the Krasnaya Polyana Hospital Number 8, built specially for the Games, where she underwent emergency surgery.
The Russian Freestyle Federation confirmed today that Komissarova, who is now being treated in a German clinic is permanently paralysed.
In a statement they reported the conclusions of hospital specialists saying: "Due to the severity of the injury, the functions of the spinal canal are not regenerating. In the opinion of the specialists, Maria will be able to move around independently using special equipment."
Despite the tragic news the Olympic skier has sworn to walk again.
Writing on her Instagram page she said: "I do not feel my body lower than my belly button. But I am strong and I know that some day I will definitely be on my feet again."
Komissarova will spend a further 10 weeks in the clinic and will undergo a period of treatment and rehabilitation.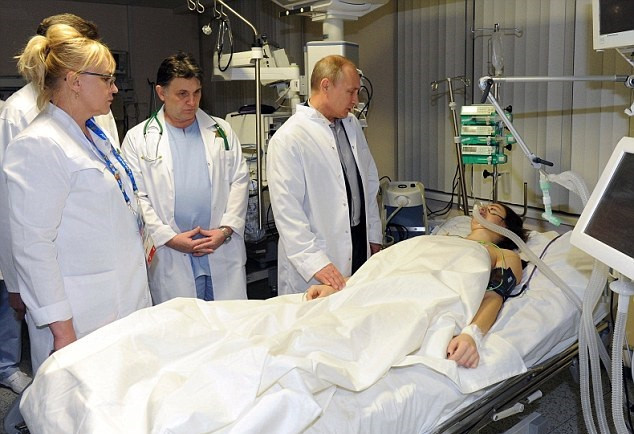 Russian president Vladimir Putin visited the athlete in hospital following the operation.
Ski-cross is regarded as one of the most dangerous events of the Winter Games. The sport sees four skiers racing together down a slope filled with jumps and obstacles.
International Ski Federation spokeswoman Jenny Wiedeke said the accident occurred on a series of jumps near the top of the course and that Komissarova fell while exiting the third jump.
Komissarova, won silver in a World Cup medal in ski cross in 2012 and isranked 33rd in the current World Cup standings.
She recovered from a leg injury last year to qualify for the Olympics.