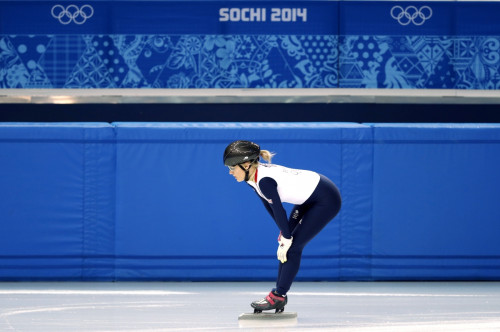 Where to Watch Live:
Live coverage of Day 8 of the Sochi Winter Olympics 2014 starts at 05:00 (GMT) on BBC2, red button, radio and BBC Online.
Events:
Curling – men's and women's round robin (from 05:00)
Alpine Skiing – Women's Super-G (07:00)
Ice Hockey – Men's Prelim. Round, Women's Play-offs Quarter-Finals (from 08:00)
Cross-Country – Ladies' Relay 4x5km (10:00)
Short Track – Ladies' 1500m, Men's 1000m (from 10:00)
Skeleton – Men's run 3 and 4 (from 14:45)
Speed Skating – Men's 1500m (13:30)
Ski Jumping – Men's Large Hill Individual (from 17:30)
Brits to watch:
Chemmy Alcott (alpine skiing)
GB teams (curling)
Elise Christie, Charlotte Gilmartin, (short track)
Kristan Bromley and Dom Parsons (skeleton).
Highlights:
Alpine Skiing
It's a big day for Chemmy Alcott who prepares to make her final swansong in the Super-G.
The 31-year-old has battled career threatening injuries to make an appearance in this, her fourth successive winter Olympics, and is likely to retire after these games.
While Alcott isn't tipped for a medal, it's certainly worth a watch if not just to share a special moment with her as Britain's female alpine representative for many years.
In terms of the medals, with favourite Lindsey Vonn of America out with an injury, it's once again anyone's for the taking although of course, super combined and downhill medalists wouldn't be a bad bet.
Look out for Tina Maze of Slovenia, Switzerland's Dominique Gisin, Maria Hofl-Riesch of Germany as well as Austria's Nicole Hosp and Julia Mancuso of the USA.
Curling
Day 8 sees the GB women take on Korea and Switzerland, hoping to build on their fantastic 12-3 win over Japan which equalled an Olympic record score, one which they also hit with their win over USA on Tuesday.
The men meanwhile take on Canada and are joint second in the table with China, the women are joint third also with China.
Short Track
Elise Christie will be looking to bounce back from heartbreak after she crashed out of the 500m short track and was denied the silver medal after disqualification.
The 23-year-old will look to pick herself up as one of the favourites for the 1500m title.
With her preferred 1000m competition on the horizon, Christie's games are most certainly not over.
Jon Eley, Richard Shoebridge and Jack Whelbourne meanwhile didn't make it through the heats of the men's 1000m race.
Skeleton
Kristian Bromley and Dominic Parsons have a lot to do in their third and fourth runs in the men's skeleton.
As it stands Bromley is currently tied 8th and parsons tied 10th.