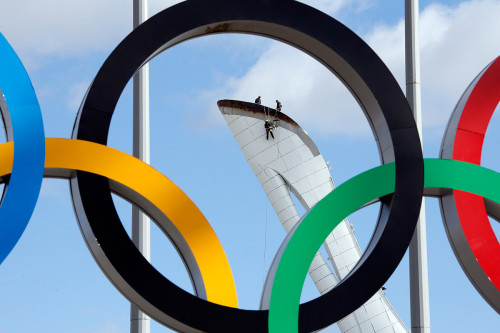 For watching the opening ceremony live click here

Where to Watch Live

Live coverage of Day One of the Sochi Winter Olympics 2014 starts at 5:55am GMT on the BBC Red Button and BBC Online until the climax of competition at 18:55pm GMT.

Events:
Snowboarding - Men's and ladies' slopestyle qualification (05:55 GMT)
Freestyle Skiing - Ladies' moguls qualification (14:00 GMT)
Figure skating - Team men's short programme, team pairs short programme (15:30 GMT)
Brits to watch:
Jenny Jones and Billy Morgan will be braving the Rosa Khutor "Extreme Park" in the opening event of the games in the snowboard slopestyle qualification and will be joined by Aimee Fuller and Jamie Nicholls.
Elsewhere Matthew Parr and duo Stacey Kemp and David King are in action for Team GB in the figure skating short programs.
Snowboarding
Slopestyle is the new kid on the block in this year's Winter games as the sport makes its Olympic debut in the Russian city a day ahead of the official opening ceremony.
It's not been an easy ride however as the park has come across a number of teething problems as riders voice their concern over the course and the severity of its features.
Three-time X-Games gold medallist Jones is one to look out for in the women's qualifiers as men's favourite Shaun White announced just a day ahead of the start of his campaign that he will be withdrawing from the slopestyle.
The American vowed to save himself from injury by pulling out of the slopestyle competition to concentrate his efforts on winning his third Olympic gold in the halfpipe.
Freestyle Skiing
The freestyle competition kicks off with the women's moguls where American Hannah Kearney remains firm favourite for gold.
Kearney is the reigning Olympic champion in this this freestyle discipline, winning in the last three World Cup titles.
Figure skating
A team competition will add a fifth event to the figure skating program for the games as skaters perform a short technical and a longer, more artistic second routine.
Day one sees the first of the short programs as three-time world champion Patrick Chan of Canada seeks his first Olympic gold aged 23.