Some find them annoying, some consider them hilarious, others analyse them to find out the main news of the day. For a company in Manchester, however, Twitter trends are first and foremost a source of profit.
Launched less than 18 months ago by Steve Bartlett (who dropped out of a business studies course at Manchester Metropolitan University after just one lecture) and Dom McGregor, Social Chain now employs 30 people and has a projected turnover of £6m (€7.8m, $8.5m) for the year.
The company controls approximately 220 Twitter accounts, including Fitness Motivation, Friends Reactions, British Logic and Primary School Problems.
The company's ability to monopolise conversations online has seen some of the biggest brands in the UK and Europe, including Spotify, Microsoft, Comedy Central and Puma turn to the Manchester-based team for promotion.
Bartlett and McGregor estimate that some of their top clients have spent in the region of between £250,000 and £280,000 to get their products promoted, with the smallest contribution totalling around £20,000.
Advertising via directing traffic through social media – a process known as 'influencer marketing' – can be extremely successful. Tippy Tap, one of the apps that the company promoted on Twitter, reached 100,000 downloads in less than 10 hours.
Success and awards might now be the routine, the company was named Social Media Agency of the Year at the Drum Awards in December 2015. But like many other startups, Social Chain's inception was not entirely straightforward.
Bartlett came up with the concept behind Social Chain after selling his first company, Wallpark, in 2014. Wallpark, a virtual wall where students could connect in the same city and share anything from advertising a sporting event to selling old uni textbooks "was never really where I wanted to be", Bartlett told IBTimes UK "so I sold my stake in the company and moved on".
Learning the behaviour of young people on social media was one of the biggest lessons Bartlett learnt from his experience at Wallpark, he added, explaining that Twitter was where he noticed that huge accounts had hundreds of thousands of followers.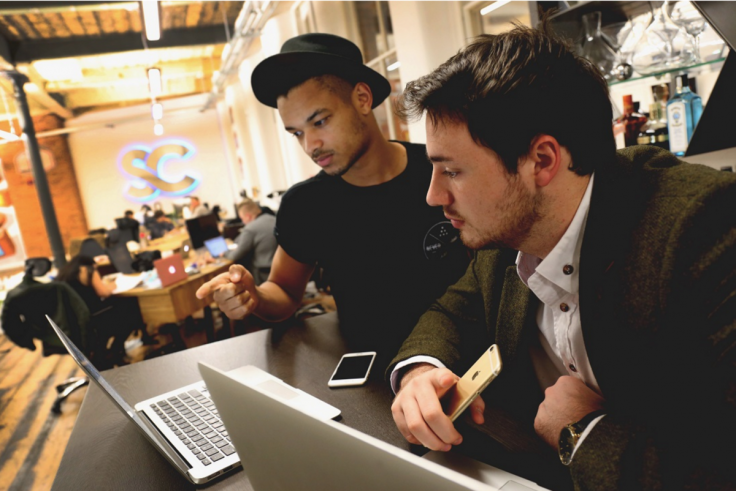 "Our co-founder Dom [McGregor] was running one of these pages that was aimed at students, he posted content that was funny and relatable and in return amassed thousands of followers," he added. "I contacted Dom and started talking about how his page and thousands of others like his could be used as a conduit to connect an audience with a brand.
"The reason people followed and engaged with these pages was for the content, so if there was a way that a brand's message could be seamlessly woven into a page, the engagement and following should not suffer."
If Social Chain's launch did not follow the traditional guidelines, the same can be said of the demographic of its employees; the average age of the team is 22. However, Bartlett, who is only 23 himself, believes the team's young age has helped them connect with the brands they work with rather than proving to be a challenge to overcome.

"Many of today's biggest brands worldwide seek to market their products and services to the millennial market," he says. "We are in fact the audience these brands wish to target with the team [...] We have a second-to-none understanding of what this audience is looking for, what makes them tick and what get's them excited."
Social Chain has recently expanded to Berlin after receiving an investment from German talent management firm NVC. However, the company's recent foray on the continent was not all plain sailing. "The biggest challenge in expanding into overseas markets probably lies in the ability to effectively translate what we do as a company into a different country, not only having to overcome the language barrier but from a cultural perspective as well," he explains.
As of April 2015, the number of Twitter users in Britain stood at 13.1m, while 37.5% of social-media users in the UK were active on the site. However, while Twitter is incredibly popular in Britain, the situation is different across the Channel.
"Cultural differences reflected in the approach to social media is also a major challenge," Bartlett adds. "Understanding how people use social media across different cultures is key to successfully adapting our marketing approach."