The murder of two young Somali men within three hours of each other this week in north London highlights the brutal gang violence that has gripped parts of this immigrant community.
Seventeen-year-old Abdikarim Hassan was fatally stabbed outside a corner shop in Kentish Town just after 7pm on Tuesday evening (20 February). At 10.15pm Sadiq Aadam, 20, was set upon by a gang wielding machetes and a samurai sword in Belsize Park and hacked to death.
Detectives are investigating possible gang links to both killings and police have imposed a section 60 order across Camden, giving officers the right to stop and search people when they believe serious violence will take place.
This persistent violence linked to drugs, territorial feuds, or blood vendettas, has beset a section of the UK's 100,000-strong Somali community in the UK.
Camden is not the London borough you would usually associate with gang violence. Houses around Hampstead and Primrose Hill are some of the most expensive in the capital, commanding an average price of £1.7m. These areas are home to bankers, city lawyers and celebrities such as pop star Liam Gallagher and film director Ridley Scott.
Aadam was the third member of his family to be killed in a knife attack. His brother, Mohamed, was murdered in September near Mornington Crescent, a mile away, and their cousin, Mohamed "Lefty" Abdullahi, was stabbed to death in nearby Holloway in June 2013. Aadam studied business at Middlesex University and worked part-time in Tesco.
His four attackers fled on foot as passers-by desperately tried to save him after he was stabbed in the heart.
One witness said: "I heard a scream, a loud scream and I went to my window. He had been slashed with a machete. There were four guys in a car and one jumped out and slashed him.
"People were screaming for towels, to throw down more and more towels."
'His mum saw him die'
In a statement Aadam's family said: "This is the constant theme in our community.
"We are made to believe that the police are here to protect us, but how does a mother feel her kids are protected when she has lost two in the same vicinity within months?
"We have lots of questions and need answers. Somebody has to listen to us."
Aadam is the 16<sup>th person to be stabbed to death in the capital, six of them have been teenagers.
Hassan was attacked just outside a Saver's Mini Mart, and died in front of his mother, yards from his home on the Peckwater estate.
One resident said: "The boy was playing football on the green just after 7pm. I see him playing football every day and going to school, and he went to the shop to get a drink. I heard there was blue van and someone jumped on him, and he got stabbed.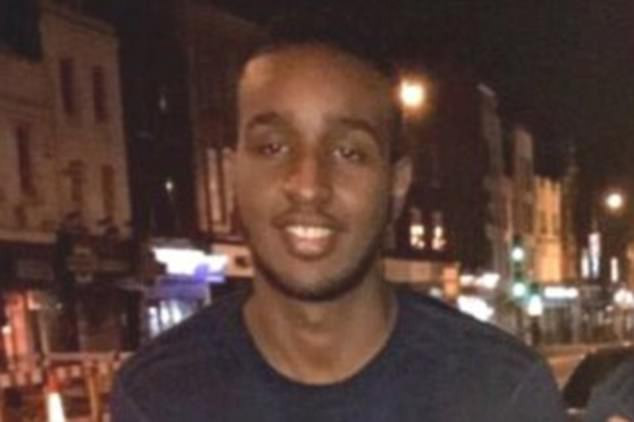 "His mum saw him die. What do you say to someone who just watched their child die?"
Hassan came to the UK from Somalia when he was two-years old and was the eldest of six children.
Murders like these feature in Somali communities in Liverpool, Manchester and in the Camden area in north London, where many of these immigrants from the horn of Africa have settled since the 1990s.
The vast majority of Somalians have nothing to do with crime. But community workers say that some refugees, or even those born in the UK, the violent civil war that erupted in Somalia in the 1990s has left them with a casual attitude to violence.
There were 335 Somalis in jail as of last December, accounting for 3.4 per cent of all foreign citizens in UK prisons.
In 2006, Ismail Mohamed, 20, Liban Elmi, 20, and a 17-year-old boy who could not be named for legal reasons were convicted of murdering a rival gang member who was stabbed 20 times by a mob of 40 youths in Camden.
Mahir Osman, who was 18 year-old student, was punched, stamped on and stabbed by youths, as part of an ongoing feud between rival Somali gangs in Camden and Tottenham.
Following the attack, which lasted less than a minute, the gang tried to flee by bus, before they were caught by police.
Mayor of London Sadiq Khan said he was "desperately saddened" by this week's deaths, and added: "Two more lives needlessly lost to knife crime."
Met Police commissioner Cressida Dick said: "The frequency with which some of our young people are prepared to take each other's lives is shocking. London must come together to make it clear that this cannot continue. We will not police our way out of this problem. There is a role for all of us – London's public, our partners and the police."