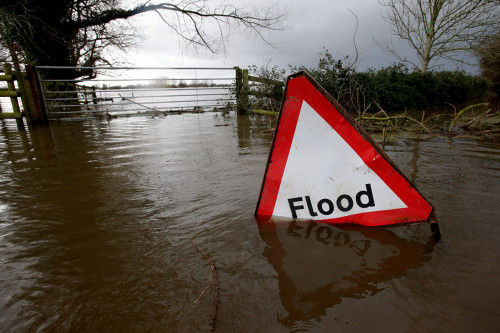 As if the waterlogged residents of Somerset haven't suffered enough. Now researchers from the University of Reading have discovered dangerous amounts of bacteria in samples of floodwater from the county – and warn locals to take care washing vegetables in case they develop gastrointestinal diseases.
According to the World Health Organisation (WHO) bathing water is safe with fewer than 500 bacteria per 100 millilitres of water and agricultural water is safe with 1,000 bacteria per 100ml. The samples taken at Moorland commissioned by Sky News contained 60,000-70,000 bacteria per millilitre.
The researcher, microbiologist Nathaniel Storey, said: "It's perhaps unsurprising considering there are septic tanks in these people's gardens that are overflowing and animals within close proximity. Therefore all the excrement in these areas is being dredged up by the floodwater and taken into houses and gardens."
Around 25 square miles of the Somerset Levels has been inundated with floodwater, and Storey warned that it might take "months" for the bacteria levels to drop.
"People should make sure they wash their hands after coming into contact with the floodwater, especially if they're going to be preparing food."
A Public Health England spokesperson said: "It is unsurprising that samples of flood water have demonstrated the presence of bacteria normally found in the outdoor environment."
Earlier, Prime Minister David Cameron wrote in local newspaper the Western Daily Press: "Like everybody across the country I feel enormous sympathy for the people who live on the Somerset Levels and are suffering from the devastating impact of the flooding.
"I know that a great deal of work has been done to try and alleviate the situation but it is not acceptable for people to have to live like this... and I am not ruling out any option to get this problem sorted out."
Severe or serious flood warnings remain in place across south-west England, the Midlands and Wales.