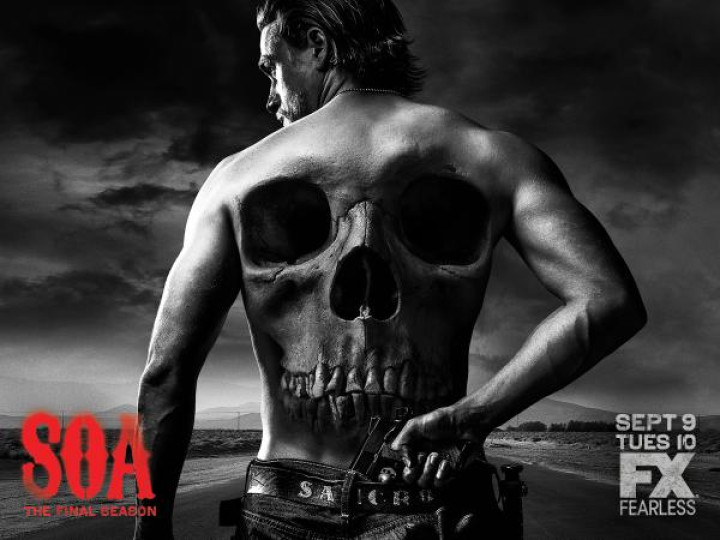 Sons of Anarchy Season 7 returns tonight with the pivotal episode 7 'Greensleeves' and fans are eager to learn more about Juice's fate after he met Jax Teller face-to-face in the previous episode.
As per the traditions of the FX biker's series, the upcoming episode is a very important one and will anchor the story before the much touted finale.
The official synopsis of episode 7 'Greensleeves' reads: "In order to undermine a powerful club enemy Samcro makes an unlikely partnership."
Click here or here to watch episode 7 'Greensleeves', SOA live stream online.
"You might be surprised—and a little confused—by the first few minutes of next week's episode, but his fate will quickly become apparent," a spoiler report from Entertainment Weekly reads.
"Speaking of potential 11th-hour saves, Gemma may find a way out from meeting the fate she fears most, but the question is whether she'll take it," the report added.
The Juice-Gemma encounter of last episode has left fans with some cliff-hanger moments when the SAMCRO matriarch almost killed the only eye witness of Tara's murder.
But it appears his fate will be decided by none other than the SAMCRO president, who is on a killing spree after his mother framed the Lin triad members for Tara's killing.
Cartermatt suspects that the seventh episode of the Kurt Sutter created cult classic may involve a major decision by Jax, including killing or forgiving the troubled gang member.
The episode may also throw light on the dark secret that Gemma is hiding from her son, Jax, the reaper.
Sons of Anarchy Season 7 airs every Tuesday night on FX network.