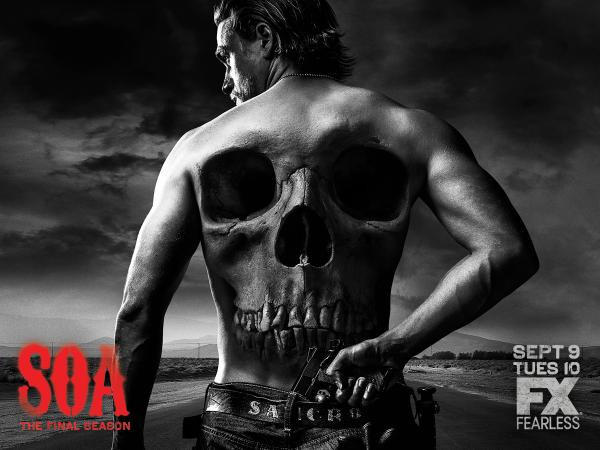 The final season of Sons of Anarchy is set for its mega premier in a few weeks and SOA fans are anxious to know what will happen during Jax's final ride.
The season 7 trailer features Jax Teller, the SAMCRO President, as a brutal reaper who is on a killing spree.
The premiere episode picks up a few weeks after Tara's death and Jax (Charlie Hunnam) is more violent than ever after his beloved wife's brutal murder.
MTV reports that in order to escape her son's brutal ordeal, SAMCRO matriarch Gemma will frame the rival gang for Tara's murder.
And this will lead to some extremely gruesome murders courtesy of a vengeful Jax. Little does he know that his own flesh and blood (Gemma) brutally stabbed Tara in the head with a kitchen fork.
Meanwhile, Juice, who helped Gemma in covering up the murder, is in the danger zone this season - SOA fans want him dead.
In the premier episode, he will go into hiding and, according to the MTV reports, he will find two strong alliances in Gemma and another surprise character.
Gemma, on the other hand will be seen as a totally different person; she be seen expressing her "motherly" love to Wendy and her grandchildren.
The final season of Kurt Sutter's biker drama will also feature Marilyn Manson's character as the white supremacist Ron Tully.
"Jax does something absolutely nightmare-inducing to grab his attention - in order to form an alliance, of course - so be prepared to feel the need to vomit very early on in the night," according to MTV.
Interestingly, Sons of Anarchy is known as the modern Hamlet. The show's creator explained how allows characters and relationships develop from episode to episode.
"I don't like to write too much in advance. We've broken story through episode 10 or episode 11. But I like to really see things in post [production], to see how episodes land and see how relationships work out, rather than writing all the scripts and seeing what works and doesn't work. I let that [the first few finished episodes] inform me. What new characters are popping? What relationships are developing?" Sutter told The Verge.
Sutter also teased about s special relationship between Wendy and Nero.
"There's an interesting friendship between Nero and Wendy this season, for example, and so then I want to play with that more. It allows me to keep it a little bit loose, but maybe it's a little too close to the edge."
Sons of Anarchy Season 7 premieres on FX on 9 September.