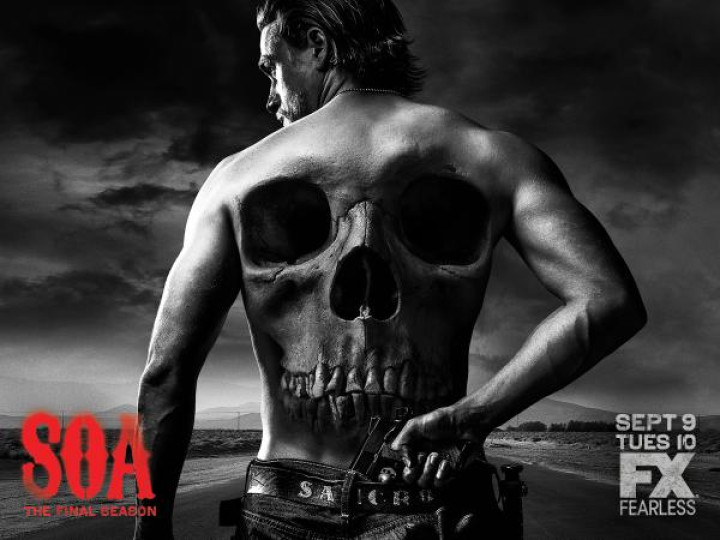 Sons of Anarchy will air its final episode on Tuesday, 2 December - and one day later, fans will be able to get their hands on the behind-the-scenes offical book, Sons of Anarchy: The Official Collector's Edition.
Sons of Anarchy creator Kurt Sutter has penned an introduction for this upcoming 208-page special hardcover edition.
It will cover all seven seasons of the FX drama, including special photographs, cast interviews and behind-the-scenes stories that touch on Sons of Anarchy music, props, costumes, makeup, prosthetics and tattoos. There will also be a glossary guide to the motorcycles, reported TVfanatic.
Currently in production for the show's seventh and final season, biker drama series Sons of Anarchy is gearing up for another explosive season as Jax seek revenge for his wife's brutal murder.
According to TVline, Tara's spirit will loom large throughout the final 13 episodes, but Maggie Siff won't be embodying that spirit.
Asked if the actress might appear in a recreated flashback or as a vision to her widowed hubby, series Creator Kurt Sutter said: "I've never done flashbacks or dream sequences on this show. They tend to pull me out of the reality of a show like this. Although The Sopranos used them very effectively with Tony, it doesn't make sense for Jax to experience that."
Sutter also revealed that Tara's presence will be most felt via Gemma, the woman who repeatedly drove a meat fork into her head.
"Gemma has this odd, remorse-[driven] dialogue with Tara throughout the season, as if she's sitting right there next to her." he added.
Kurt Sutter also teased a juicy scene in the 9 September opener that will make the show's straight female and gay male fans very happy!
A Sons of Anarchy DVD and Blu-ray Collector's Set has also been announced, as the final season kicks off with a 90-minute episode on 9 September.