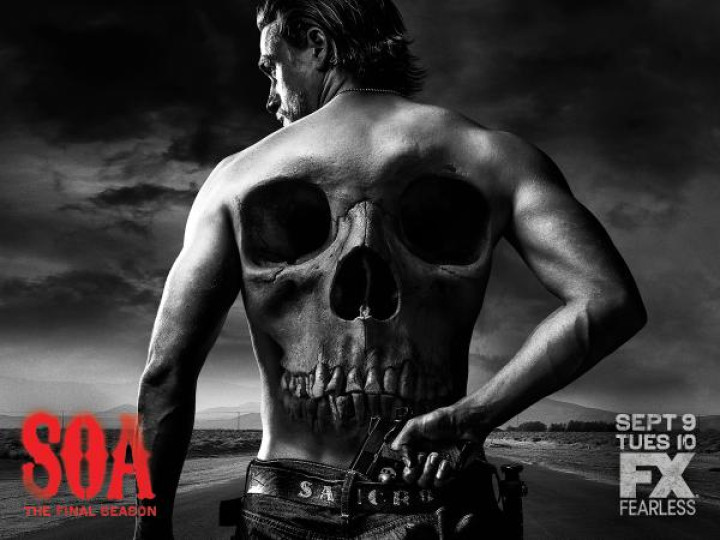 Sons of Anarchy Season 7 will start with a bang as Jax Teller (Charlie Hunnam) is vowing to avenge the death of his wife Tara.
The premiere episode is rightfully titled as 'The Black Widow' as Jax is boiling with anger and frustration because he was forced to live a life without his love Tara.
In an interview with Collider, SOA executive producer and director Paris Barclay told that white supremacist Ron Tully (Marilyn Manson) will play an important role in Jax's life.
"For me, Manson's character is really a lot like the role that Otto served. So much of what these guys do pivots on what happens inside because that's where most of the shot-callers are. To stay real, I really needed to find that character inside, and that's the character that Manson plays," he said.
Mstarz suspects the SAMCRO president will meet Ron Tully in jail, and will soon form an alliance to plan revenge against those who killed his wife.
Barclay also told that the upcoming season will be a roller coaster ride for fans as a major character will die every episode as Jax's revenge saga unfolds and only a few will survive till the end.
"I think this season should be a roller coaster ride. Every episode this season is packed with more plot, more story and more characters than we've done before. Kurt really is getting two seasons in one," Barclay teased.
"And in almost every episode now, someone is dying, so that makes it a little bit harder to shoot 'cause we have to keep saying goodbye," he told the website.
To the question if everyone dies at the end Barclay said, "Yes, there will be someone left. There will be more than one, but not a lot more, there will be a table."
Though creator Kurt Sutter is yet to pen the finale of the final season of the FX's supremely poplar biker drama, there are reports that it will be similar to God Father and Jax and Gemma will have the final face off.
"The story that Kurt wants to tell ends up with the chickens coming home to roost, so bad things are gonna happen. It's like The Godfather. Not too many people that you saw at the beginning of The Godfather were there at the end," Barclay told Collider.
Will Jax survive the killing saga of SOA and what will happen to SAMCRO matriarch and Tara's killer Gemma?
All questions will be answered when the show will premiere on 9 September on FX networks.