Sony Entertainment CEO Michael Lynton has announced that he is stepping down to focus on his chairman position at messaging app owner Snap Inc., the company announced on Friday. The executive will give up his current position at Sony's movie, TV and music division on 2 February, but will remain as co-CEO for six months to help Sony president and CEO Kazuo Hirai find a replacement.
Lynton's move comes as popular vanishing message app Snapchat's parent company prepares for an initial stock offering this year, which could value the company at more than $25bn (£20.5bn). As an early investor in Snapchat, co-founded by 26-year-old Evan Spiegel, Lynton has been on the company's board for four years.
Hirai will temporarily serve as chairman and co-CEO of Sony Entertainment and will have a second office at Sony Picture Entertainment's offices in Culver City, California.
"It has been an extraordinary 13 years and an honor to work at Sony with some of the most talented and creative people in the entertainment space," Lynton said in a statement. "I have been involved with Evan and Snapchat since its early days, and given its growth since then, decided the time was right to transition and focus on my role as Chairman of the Board of Snap Inc.
"I leave Sony with great pride in all we have accomplished together, and confidence that the broad changes we have made and new management team we have assembled over the last few years will strengthen the company overall," he said.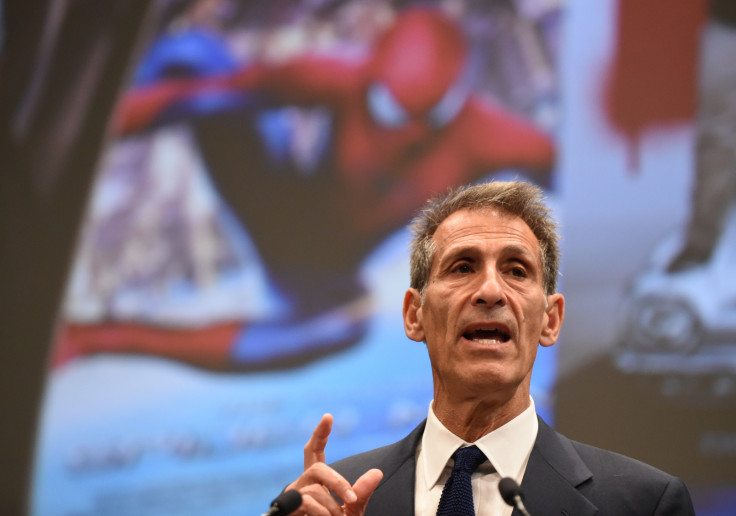 Lynton's tenure at Sony Entertainment began in 2004 when he was appointed chairman and chief executive of Sony Pictures Entertainment. In 2012, he was named CEO of Sony Entertainment which oversaw Pictures and the conglomerate's music companies. In April last year, he was appointed CEO of Sony Corporation in charge of Pictures and Music businesses.
In 2014, Sony suffered a massive hack that saw the leak of unreleased films and a trove of embarrassing internal emails and sensitive studio information on the internet. Leaked emails stolen from Lynton's inbox revealed his advising and helping Spiegel with deals, strategies and acquisitions.
The White House blamed North Korea for the devastating cyberattack as retaliation against Seth Rogen's "The Interview," a controversial, fictional comedy portraying the assassination of Kim Jong-un. Following the cyberattacks and threats of violence, Sony decided to cancel the movie's release, prompting outrage in Hollywood and Washington.
After President Obama criticized Sony's decision saying they "made a mistake," Lynton fired back.
"I don't know exactly whether he understands the sequence of events that led up to the movie not being shown in the movie theaters," Lynton said. "We have not given in. And we have not backed down. We have always had every desire to have the American public see this movie." The movie was eventually released by Sony online.
Lynton's time at Sony saw the release of numerous hit movies including the The Social Network, American Hustle and Skyfall and successful television series including Breaking Bad, The Blacklist and The Crown.
However, the studio has seen its share of weak box-office returns and has undergone an executive shakeup in recent years. In November last year, Andrew Gumpert, the head of Sony Pictures' business affairs group, left to become CEO at Paramount Pictures. In June, long-time Sony executive Doug Belgrad announced he was leaving the company just one day after Sony Pictures TV chairman Steve Mosko said he was leaving after 24 years with Sony.
"Sony as a company has been troubled during the last couple of years," Jeffrey Cole, director of the Center for the Digital Future at USC Annenberg School for Communication and Journalism, told the LA Times. "With the exception of their television unit, they just can't seem to get their footing."
Hirai said Lynton's broad structural changes "set the path for restoring profitability and future growth, though we recognize current challenges in the motion picture businesses and its turnaround will take some time."
"The entertainment industry continues to undergo some of the most transformative changes it has ever seen, and Michael's vast experience and expertise in the entertainment and media space has been invaluable in charting a path forward through this new landscape," Hirai said.