Iranian photographer Asghar Khamseh has been named L'Iris d'Or Photographer of the Year in the 2016 Sony World Photography Awards for his incredibly powerful portraits of acid attack victims.
His series, Fire of Hatred, highlights the increasing number of acid attacks in Iran. The violent act of acid throwing is primarily against women and children. These attacks are committed with the intent to disfigure, maim and destroy the social life and future of the victim. The motivation to commit this type of violence is cultural destitution, intolerance and happens in situations such as family conflicts, rejected marriage proposal, revenge and divorce requests. In addition to physical and psychological damages, victims often face social stigma and blame. These portraits offer them an opportunity to make their stories public.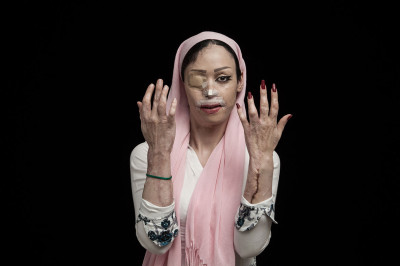 Dominique Green, chair of the awards' documentary jury, said of the work: "Portraits of disfigurement resulting from social violence are undoubtedly a hard-hitting subject, and one which the long-standing tradition of documentary photography does not shy away from. The power of Asghar Khamseh's imposing series is such that he enables the viewer to face head-on intimate images, which could be testing to examine closely, with empathy and respect, which in turn allows the viewer to become a witness and not just a spectator. The jury were united in their admiration of this work and the light it shed on the tragic practice it exposes."
The world's largest photography competition attracted a record-breaking 230,103 entries from 186 countries this year. All winners and shortlisted photographs will be exhibited at Somerset House in London from 22 April to 8 May 2016. See our gallery of the professional category winners here.