Key Features:
4.3in 720 x 1,280 LED-backlit screen
Android 2.3.7
12 megapixel camera with LED flash, autofocus
Dual-core 1.5GHz Qualcomm CPU
32GB internal storage
Price as reviewed: Around £400 SIM-free; £21-a-month on contract.
Introduction
Sony is not in the greatest financial position at the moment. It is set top post a loss of £4bn for the year to the end of March 2012 and is in the process of restructuring the company which will see 10,000 people lose their jobs. Oh, and its got three new smartphones to sell.
The Xperia NXT series of phones are the first to be branded as Sony and not Sony Ericsson, following the Japanese giant's decision to buy out its partner, earlier this year. It may not seem like Sony has a solid enough platform from which to launch an assault on the smartphone market, but with a huge portfolio of content, as well as huge hardware integration possibilites including with TVs and games consoles, Sony should stand a good chance of succeeding.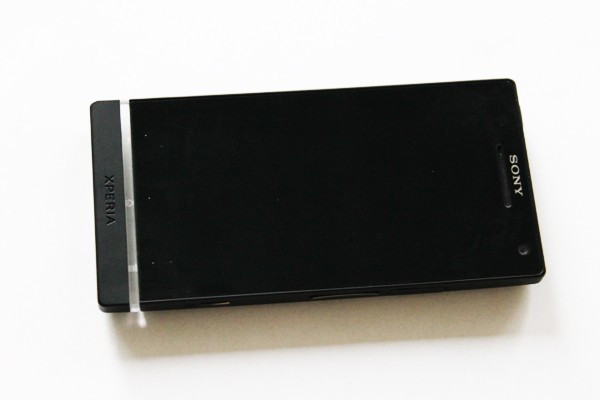 Today we are looking at the Xperia S, the flagship phone in the NXT range, which also includes the Xperia P and Xperia U. Sony has rethought the design of its latest phones to distinguish them from the Sony Ericsson Xperia-branded devices which went before them, but is it enough to convince picky smartphone customers? Let's find out.
Sony Xperia S: Design and Build Quality
Before Ericsson sold up its half of the mobile phone partnership, Sony Ericsson had produced some iconic-looking devices including the Arc and Arc S. In what seems like a bid to draw a line under the past and look forward, Sony has come up with a new design language for its NXT range, and we like it.
The phone measures 128 x 64 x 10.6mm and weighs 144g, which means it is a solid block of a phone - that is when compared to some of the ultrathin and light smartphones on offer today. But the phone feels solid. Its rather utilitarian design somehow offers us a sort of comfort in these days of so-thin-you-can't-see-them smartphones. This phone feels like it is not going to smash into a million pieces if we drop it.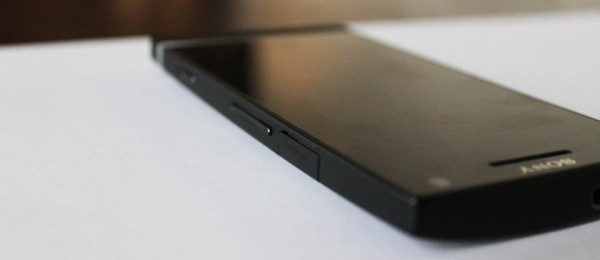 Where other phones like the iPhone 4S go for metal, Sony has gone for soft-touch plastic, which is fine by us as the matte finish provides a relatively premium feel. Our review sample was black, but the Xperia S is also available in white. The phone curves gently from top to bottom, which makes it great to hold in one hand and more comfortable when on a call.
The front is dominated by 4.3in screen and is covered in a single piece of Gorilla Glass, though there is a rather large bezel around the screen. On the top is the Sony logo located above the speaker grille and to the left is the 1.3 megapixel front-facing camera.
The proximity and ambient light sensors are also located here, but you'll rarely notice them. Like most phones nowadays, there is a charge/event LED located along the top of the phone, which flashes red or green depending on what is happening.
The main design feature of the Xperia S, and indeed the entire Xperia NXT range, is a translucent horizontal strip along the bottom of the phone, which features white Back, Home and Menu icons etched into it. While these may look like touch sensitive buttons, they are not (we tried quite a few times before realising we were getting no where) and you'll need to press the dot located above each icon to get a response.
We found these capacitive buttons to be slightly unresponsive for our liking and it took a bit of getting used to before we were pressing accurately each time.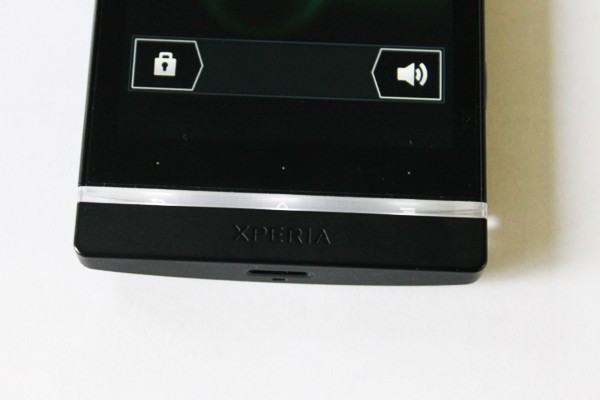 The transparent strip also has an attractive white backlight which illuminates when the phone is active, however you can't change the colour of this strip, should you want to customise your phone to your liking.
The translucent strip is not only a fashion statement however as below it sits the phone's antenna and if you jam your eyeball up really close, you might be able to see a grid inlayed in the transparent strip which transfers the signal to the phone.
The phone is an odd combination of right angles and curves, but it's a combination that works. The phone feels comfortable in your hand and while it is slightly on the chunky side when compared to many of today's phones, we for one didn't mind the extra few millimetres
Sony Xperia S: Connectivity

Looking around the sides of the phone, you'll find a better-than-average number of buttons and ports. On the right-hand-side you'll find the volume rocker and, thankfully, a physical shutter button for the 12 megapixel camera - a feature sadly missing from the HTC One X.
If you press the shutter button while the phone is locked, by default, this unlocks the phone, launches the camera app and takes a snap. In practice, if you need to capture an image quickly, this is really useful and we found the delay was less than two seconds in most cases, with the time needed to focus the biggest delay. It is difficult to frame a scene properly using this method, but it's a very handy feature all the same.
The button itself is a bit flimsy, on the small side and doesn't give you the feedback you would like. While it's easy enough to press, it is hard to judge the difference between a full and a half-press, as it is too shallow. When fumbling in the dark to take a picture, we found it difficult to get to grips with the shutter button, which is a shame.
The volume rockers works fine but is located in the middle of the right-hand edge which is not ideal for one-handed operation. The reason for this positioning is the presence of a micro HDMI port which is covered by a plastic flap.

Micro HDMI ports are not that common on high-end phones these days but it is a welcome addition and allows you to easily output photos, video and even your phone's homescreen to your HDTV. This works very easily and an adapted carousel of icons pops up once the phone is connected to the TV.
This gives you access to video and music content, as well as Music and Video Unlimited stores. It all works pretty well and if you want to use your phone as a media hub, then it is an ideal solution. However, solutions like AirPlay from Apple are just that bit more seamless.
Along the left-hand edge you will find a microUSB port, again covered by a flap, which is used for charging and data transfer. Along the top of the phone you will find the usual combination of 3.5mm headphone jack and power button.
The power button is located on the left most edge of the phone, which is a bit odd, but once we got used to its placement, it wasn't a problem. Along the bottom of the phone is an eyelet for a lanyard, though we've yet to see anyone use one of these notches.

The rear is a vast expanse of matte plastic with the only things breaking the phones lines being an old Sony Ericsson logo [a remnant of the old regime], the transparent strip along the bottom, the vertical speaker grille and the 12 megapixel camera with LED flash. The speaker, camera and flash are all in a single vertical line to disrupt the phone's lines as little as possible.
The back cover is a cinch to remove, by simply pressing upward on the cover, but despite thew whole rear coming off, it reveals very little. There is no access to the battery and no microSD card slot. The phone comes with 32GB of storage, without any option to expand it - though for most people this shouldn't be a problem.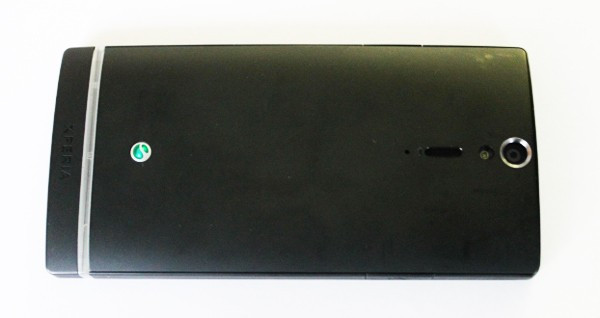 Removing the back cover does give you access to the micro SIM card slot, a standard which is becoming ubiquitous in most high-end phones these days. We think that Sony could have come up with a better solution putting in your SIM card instead of having to remove the whole back panel.
The phone has the usual compliment of Bluetooth, Wi-Fi, DLNA and aGPS as well as NFC, which is used in conjunction with the Smart Tags, which we will get onto later. It should be noted that the Xperia S also supports GLOSNASS for those looking for more accurate navigation.
Sony Xperia S: Hardware
Inside the Xperia S sits a Qualcomm MSM8260 Snapdragon chipset featuring a dual-core Scorpion CPU running at 1.5GHz. This is backed up by 1GB of RAM and an Adreno 220 GPU.
With quad-core phones like the HTC One X, ZTE Era and upcoming Samsung Galaxy 'whatever', the Xperia X looks decidedly 2011 in terms of specs. But we think that specs are really just a set of numbers, and what matters is real world performance and whether or not the phone can handle the tasks you want it to do.
In benchmarks ran by GSMArena, the Xperia S offers similar performance levels to the Samsung Galaxy S2 and better than the HTC Sensation XE. But what does that mean in terms of real world usage?
Well we found the Xperia S to be perfectly passable in terms of doing everyday operations like web browsing, gaming, switching between apps and watching movies. Considering there are very few Android apps available which take advantage of a quad-core processor, this is no surprise.
Even when we threw a 720p video file, .avi and .mkv, the Xperia S played it back without a problem. While some intense 3D games like Infinity Blade may struggle on this phone, for 95 percent of your activities you won't notice the lack of quad-core processor.
Call quality on the phone was excellent with the speaker being nice and loud, while the people on the other end of the phone reported we came through loud and clear.
Battery life for the Xperia S is, like almost all smartphones, just about a day of normal usage. While you can extend this to about a day and a half by switching off the likes of Wi-Fi and GPS, or dimming the screen, this is really not a solution to the problem.
Sony Xperia S: Software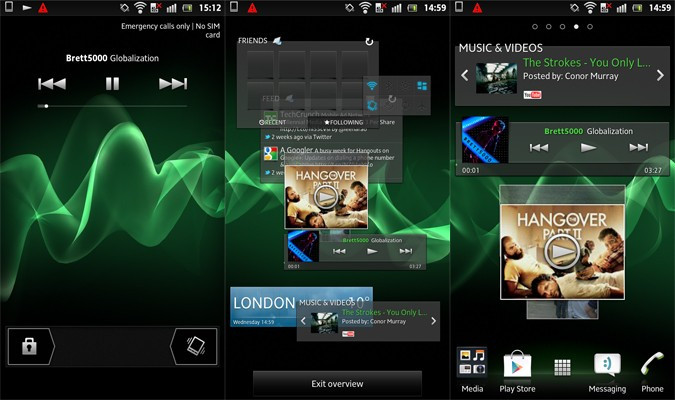 One of the major disappointments of the Xperia S is the lack of Android 4.0 (Ice Cream Sandwich). The Xperia S comes with Android 2.3.7 (Gingerbread) which has been overlayed with Sony's own custom skin.
Unlike a lot of the tweaks made by manufacturers when skinning Android, Sony has done a pretty decent job by adding some well-thought-out features. The first is the lock screen which now gives you access to music controls without having to unlock the phone. The lock screen will also show up notifications from Facebook, missed calls, new messages and emails as well as calendar events.
Unlike Ice Cream Sandwich, you can't launch straight into an app from the lock screen, but remember you can always jump straight into the camera app by pressing the shutter button.
Having unlocked the phone you are faced with five homescreens where you can put widgets and apps to your heart's content. One feature we really like from Sony is the addition of an Overview mode. Simply pinch-to-zoom on any homescreen and you will see all active widgets float into view, letting you easily access any of them with a single tap.
On the bottom of all homescreens are four customisable icons, separated by a shortcut to the app drawer. These can be customised to whatever you want and can be single apps or folders with multiple icons in them.
Some of the widgets exclusive to the Xperia line include the Timescape widget, which brings all your contacts most recent activity (email, Facebook, Twitter) into one place, and Mediascape, which collates all the music, video and photos on your phone. These are fine if you like that sort of thing, but we find them a bit too fiddly.
The standard notification bar and task switcher are also present, without any tweaks from Sony. However Sony has added in one feature which is normally only available on Android 4.0, a data monitor, which will let you set alarms so you are warned if you are about to go over your monthly data allowance.
Overall the UI is snappy and responsive and media playback is excellent, and while the Unlimited Stores are mostly too expensive and lacking content, the Xperia S is one of the better phones we've used for music and video.
An update for Ice Cream Sandwich is on the cards but Sony has not set a date for the update yet, preferring to focus first on the Xperia Arc and Xperia Arc S - which we think is a rather odd decision.
The Xperia S is also a fully PlayStation-certified device and so gets access to games in the PS Store. Getting into the store however is a little convoluted. First download the Let's start the PS Store app. This will open your browser and point you to the right URL, which will then download the PS Store.
To make sure this is allowed, you'll need to tick the Unknown Sources box in the Applications menu within Settings. Once downloaded you're given access to exclusive PS Store games, all costing £3.99
Sony Xperia S: Screen and Camera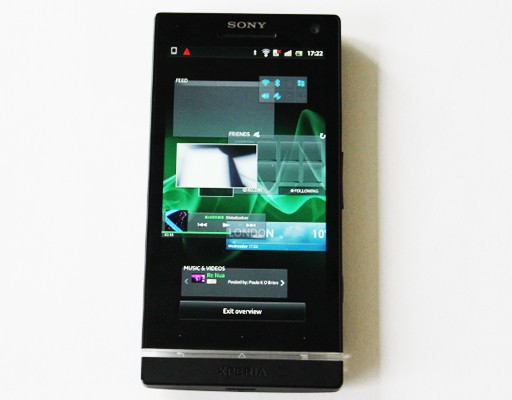 The 4.3in HD screen on the Xperia S is a beauty. It has a pixel resolution of 720 x 1,280 with a pixel density of around 324ppi. This makes it pin sharp and almost as sharp as the Retina Display on the iPhone 4S.
Like the HD screen on the HTC One X, one of the biggest benefits of a screen this sharp is the ability to read a lot more information on a website without needing to zoom in. Pictures, videos and apps also benefit from the higher resolution.
While Sony has admitted certain customers have suffered from a yellow tinge to the screen when the phone got too hot, we didn't experience this. What we did notice however was poor viewing angles, though we don't see this as much of a problem on a phone, which will be mostly used while looking at it straight on.
Overall the screen is a winner. Bright, vibrant colours, deep blacks and pin sharp text make this a superb display.
So what about the photos to display on the screen? Surely a 12 megapixel camera with autofocus and from Sony will be a winner right? Well, yes and no.
Yes the camera on the phone, with its Exmor backside illuminated (BSI) sensor does a good job at capturing images, but considering Sony's expertise in the digital imaging world we hoped this could have been a camera to replace our compact point-and-shoot, but it just falls short.
While images appeared sharp and clear, there was some noise, but it is good to see Sony have sorted out the overexposure issue which hampered the Xperia Arc range of phones.
Image results were consistently good however, with accurate colours and decent white balance. However the phone did struggle when it came to low light, or partially low lit situations with a lack of detail and significant noise apparent. This is surprising considering the Exmor BSI sensor should offer improved low-light performance.
The camera app is pretty good, giving you access to a number of shooting modes including sweep panorama, 3D sweep panorama (which you'll need a 3D TV to view the results) and an intriguing 3D Sweep Multi Angle mode which lets you view a scene from different angles, right on the 2D screen of the Xperia S.
We found the last of these to be a bit gimmicky, but we can't knock Sony for including it. There is however, a lack of digital filters which are included with a lot of phones' native camera apps now. This means you'll have to reply on the likes of Instagram if you want some retro goodness from your snaps.
The Xperia S offers Full HD 1080p video too at 30 frames per second and together with stereo sound recording offer some of the best 1080p video we've seen on any smartphone, including the HTC One X.
The front-facing camera can also shoot 720p video, but the results from the 1.3 megapixel sensor are not good though are sufficient for video calling on Skype and the like.
Sony Xperia X: Smart Tags
The Xperia S includes a near field communications (NFC) chip which allows you to tap your phone off compatible devices and share information, change settings or make payments through the likes of Google Wallet (though this is not available in the UK yet).
To take full advantage of this, Sony includes a couple of Smart Tags in the box with the phone, but you'll need to make sure to turn on NFC first to use them. These Tags allow you to change a variety of settings in an instant, and are designed to be used in certain locations: bedroom, car, work etc.
Setting them up is pretty straightforward. Tap your phone off one and you'll be greeted with a list of actions assigned to each Tag. You can add actions from a long list including turning on or off Bluetooth, launching a particular app or opening your favourite website.
Sony says it sees people using them consistently in certain locations and includes a couple of sticky pads so you can secure the Tags to your bed-side locker, car's dashboard or monitor at work.
Smart Tags are a clever idea, but we not sure how practical they are. We used them for a few days but quickly found ourselves forgetting about them as the settings we have on our phone at home and at work are pretty much identical.
If however you have a strict phone policy at work, or need to turn off certain features while driving, then we can see their benefits.
Sony Xperia S: Verdict
The Sony Xperia S is a solid entry by the Japanese giant into the smartphone world after jettisoning Ericsson from the partnership. It has created a new design for its phones which the rest of the Xperia NXT series will follow. It has a great screen, decent camera and solid build quality.
However, lacking the latest version of Android, and lacking a certain wow factor, the phone is unlikely to challenge the top table of the smartphone world where the likes of the Samsung Galaxy Nexus, iPhone 4S and HTC One X currently sit.
The Xperia S is available SIM-free for less than £400 if you shop around online which is a considerable amount but it can also be had for free on two year contracts from as little as £21-a-month.
Scores:
Overall: 8/10
Battery: 8/10
Design: 8/10
Screen: 9/10
Value: 8/10
The Good
Sharp and bright HD screen
Fast and responsive
Good build quality
The Bad
Average camera
No microSD card
Still waiting for update to Android 4.0