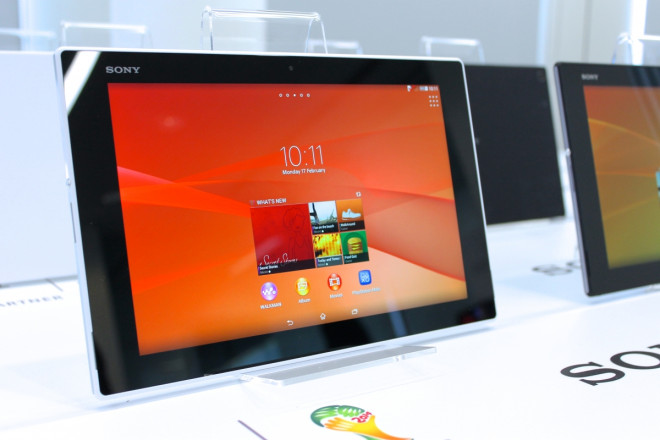 Sony has unveiled the Xperia Tablet Z2, a 10.1in Android tablet which is both thinner and lighter than the iPad Air - and is claimed to be the world's most powerful tablet.
Announced at Mobile World Congress in Barcelona, the Xperia Tablet Z2 is Sony's answer to Apple's flagship tablet, and is looking to position itself at the very top of Android tablet league table.
At 6.4mm, the Sony tablet is 1mm thinner than the iPad Air and 0.5mm thinner than last years original Xperia Tablet; weighing just 426g, the Tablet Z2 is 10% lighter than the iPad.
Sony claims the Tablet Z2 is both the slimmest and lightest waterproof tablet on sale - and by waterproof, it means the tablet can be submerged in 1.5m of water for up to 30 minutes.
The Tablet Z2 is powered by a 2.3GHz, quad-core processor with 3GB of RAM - specifically, this is Qualcomm's new Snapdragon 801 chip, which it shares with the Xperia Z2. Storage is just 16GB, but can be increased via a microSD card slot by up to 64GB.
A 6,000mAh battery means the same 10 hours of video playback as the original Tablet Z from last year.
Mimicking Sony's new Xperia Z2 smartphone, the Z2 Tablet gets the same 'Omnibalance' design - meaning an aluminium frame with glass front and rear - as well as waterproofing (this time without the need to cover the headphone jack).
The new tablet has a 1,200 x 1,920 Full HD screen which boasts Sony's Triluminos and new Live Colour LED technologies, resulting in more accurate colour reproduction.
---
Noise-cancelling
---
Where regular noise cancelling headphones are bulky, due to needing their own on-board processor and power supply, Sony's Tablet Z2 can provide noise cancellation to a special set of slim, unpowered earphones - sold separately for €60.
Having briefly used the noise-cancelling headphones, IBTimes UK was impressed with the technology's ability to remove background noise of a plane cabin, simulated by a loudspeaker nearby.
Also shared with Sony's latest smartphone is the tablet's dual front-facing speakers - although they are positioned to not be covered while you hold the tablet, being at the bottom of the device's screen bezel still puts them in a more vulnerable position than if they were higher up.
During a brief hands-on session with the Xperia Tablet Z2 ahead of Sony's press conference, the device's most striking feature was its diminutive size and low weight - indeed, the lightness was shocking the first time I picked it up.
Release date
Going on sale "before the end of March," the Tablet Z2 will come in black and white, and be joined a month later by a range of Sony accessories; these include a Bluetooth speaker dock (€129) and a case with integrated stand and a keyboard boasting a three-month battery life (€120).
Finally, the Tablet Z2 work with Sony's PlayStation DualShock 3 controller, which is compatible with PlayStation Mobile games. Sony said work to integrate with the PS4's DualShock 4 controller is ongoing.