Apple and Samsung dominate, but in their wake Sony is making the most of what customers are left.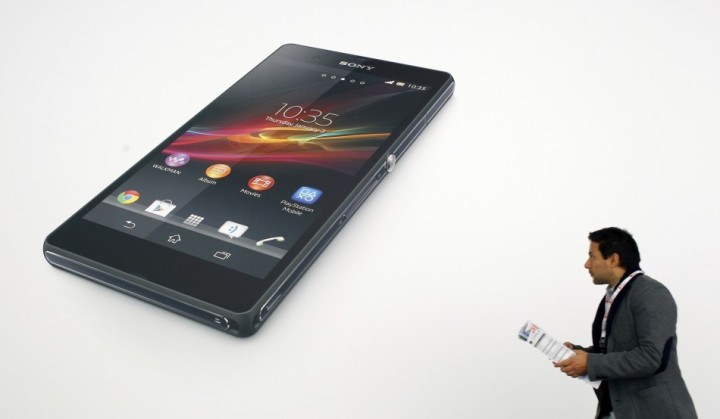 The world of high-end smartphones is one where the best phone's don't necessarily make them the best-selling devices. Many would argue that the Samsung Galaxy S4 and Apple iPhone 5 are not the best smartphones you can buy but they will be the two best-selling phones of 2013 by some considerable distance
That means that Nokia, Sony, BlackBerry and HTC are all battling it out for the scraps trying to convince those customers looking for a high-end smartphone but not enamoured by Samsung or Apple (or won over by their huge advertising campaigns) to buy their product.
All four manufacturers have launched flagship smartphones in the last six months but as they scrap for any crumbs left at the smartphone table, which one is making the biggest impact?
Web analytics firm 51Degrees.mobi has pulled together some data on the four flagship phones - the Nokia Lumia 920, Sony Xperia Z, HTC One and BlackBerry Z10 - tracking the number of websites visited by each device to see which is the most popular.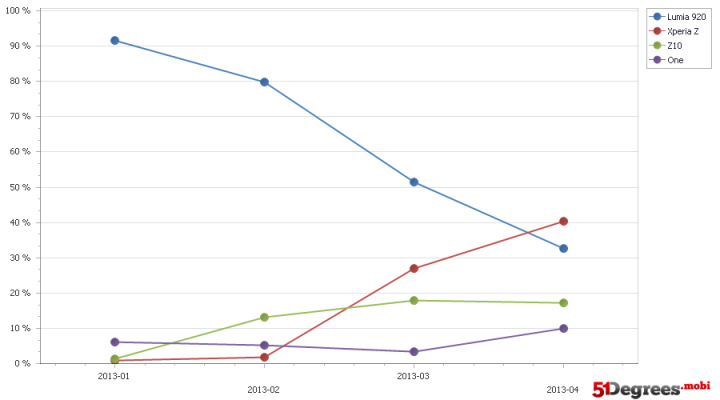 The figures for April show that it is Sony's Xperia Z which is now leading the pack, with the chart above showing that the popularity of the Lumia 920 has fallen dramatically since the beginning of the year.
The BlackBerry Z10 comes in third place while the HTC One lies bottom of the pile which is not good news for the Taiwanese company who have put a lot of emphasis on the launch of the HTC One. While it has been well received critically, it seems to be failing to grab the public's attention since launch according to these figures.
While this chart is clearly one indicative, it does point to worrying trends for Nokia and HTC while both Sony and BlackBerry have seen increase in use of their flagship devices in the recent months.
Also the chart only monitors devices which access the websites which are affiliated with 51Degrees.mobi adn therefore is not counting all devices. However if we assume the number of people accessing websites on all devices is pretty constant, this graph does represent a good indication of where each manufacturer lies in relation to each other.
Back in March Sony indicated that it was happy with cementing third spot behind Samsung and Apple, while it battles competition from below from the likes of Huawei and ZTE.