Key Features:
4.3in screen (1280 x 720)
Android 4.3 (Jelly Bean)
137g; 9.5mm
2.2GHz Quad-core processor
Available in pink, lime, black and white
Price: TBC
Release Date: February 2014
---
Sony Xperia Z1 Compact
---
Sony had a good 2013. From the moment it unveiled the Xperia Z at CES in January of last year it has gone from strength to strength, adding a couple of decent budget Xperia models, along with the top of the range Xperia Z1 and the obligatory phablet - the ridiculously huge 6.4in Xperia Z Ultra.
What was missing from the portfolio however was a smaller - more compact - smartphone, but that has now been addressed with the launch of the Xperia Z1 Compact.
---
Xperia Z1 Compact: Design
---
The phone is immediately recognisable as a Sony smartphone with the OmniBalance design language being carried over from the other phones in the range.
The means you get a fully-flat design, though it is not as sharp as the original Xperia Z, with the sides slightly curved rather than razor sharp.
The phone is all metal and glass, giving it a really premium feel. While its 137g weight is certainly not heavy, there is a heft there which adds to the feeling of quality.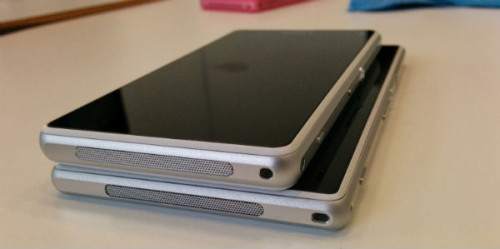 At 9.5mm thin it is far from the thinnest phone on the market, but with Sony promising no compromise in performance and experience when compared to the flagship Xperia Z1, this is hardly a surprise.
The phone feels great, and with a 4.3in screen, it makes it much easier to use one-handed than most high-profile phones like the Samsung Galaxy S4, the HTC One or indeed the full-sized Z1.
The Xperia Z1 Compact is waterproof and dustproof meaning all ports are covered - except the headphone jack which has a waterproof coating.
Sony said the decision to cover the ports came down to a straight choice between clean lines or being waterproof and it felt consumers want the latter more.
---
Xperia Z1 Compact: Colours
---
Sony has also added some colour to the range. While the Z1 was available in purple, along with the traditional black and white, here we get more radical pink and lime options.
In recent years Nokia has reintroduced bright colours to the phone market, and in September Apple followed suit with the iPhone 5c.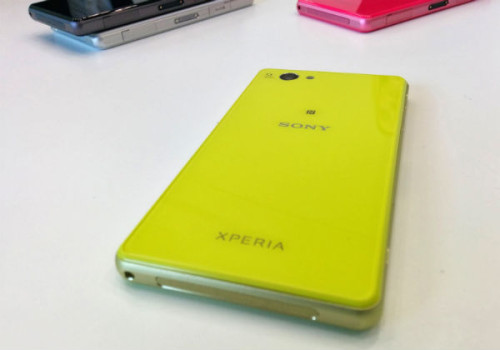 Sony told me ahead of CES that getting the process of colouring the metal chassis was a difficult process to perfect, but whatever they've done, it looks great.
However Sony calling one of the colours lime when it is clearly inspired by Nokia's yellow Lumia phones is a bit of a stretch.
---
Xperia Z1 Compact: Screen
---
The 4.3in screen has a resolution of 1280 x 720, giving it a pixel density of 324 pixels per inch which is almost identical to Apple's Retina displays on its iPhones.
Sony has used an IPS panel together with its own in-house Triluminous and X-Reality display technologies borrowed from its television division. The result is a really crisp and bright screen which looked to have great viewing angles, which was one of the problems affecting Sony's 2013 smartphones.
---
Xperia Z1 Compact: Hardware, Performance and Battery
---
In terms of power, Sony has put the same powerful Snapdragon 800 chip inside the Z1 Compact as powered the Xperia Z1 and paired it with 2GB of RAM, which means performance should not be an issue. It comes with 16GB of internal storage (12GB usable) but crucially comes with a microSD card slot for expansion.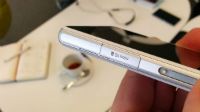 The battery is 2,300mAh which is relatively big for a phone this size though Sony admitted you can't expect much more than a full day of use from it - as is typical of most phones these days.
---
Xperia Z1 Compact: Softare
---
The Xperia Z1 Compact will run Android 4.3 (Jelly Bean) despite Android 4.4 (KitKat) being released three months ago, which is a shame as there are some decent upgrades in the new software.
As usual Sony has added its own software on top of Android, adding apps for its own film and music services, as well as a PlayStation app which now allows PlayStation 4 owners interact with the console using the phone.
The Sony software isn't as intrusive as some, and those looking to buy into the Sony eco-system will find everything they need.
---
Xperia Z1 Compact: Camera
---
One of the biggest selling points of this smartphone will be the camera, which Sony proudly boast is the "world's best camera in a water-resistant smartphone."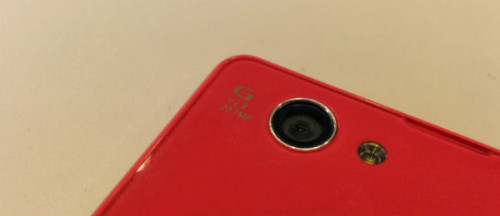 Now I'm not sure exactly how big a boast this is considering there are very few water-resistant smartphones out there, but if the Xperia Z1 Compact can produce the same photo quality as the Xperia Z1 - as Sony claims - then it will be a major success.
I didn't get a chance to test the camera on the phone properly, but Sony has created a specially built 20.7 megapixel sensor paired with a bright F2.0 lens for the Z1 Compact, which should ensure good detail and good low light performance.
Like most Sony products these days, the Xperia Z1 Compact supports the company's one-touch technology which uses NFC to pair devices like smartphones and tablets with TVs and speakers to share music and movies.
---
Conclusion
---
Sony's Xperia Z1 Compact is a great looking and feeling phone. For those looking for a smaller smartphone but wanting all the features of a flagship device then it will certainly be an attractive option. Add the promise of a great camera and the option of something more colourful, and I can see this being a big seller - if Sony gets the pricing right of course.
Sony will release the Xperia Z1 Compact in February in the UK, with pricing to be announced - though a Sony spokesperson said it would be competitive with comparable smartphones in the market such as the Samsung Galaxy S4 Mini and the HTC One Mini.