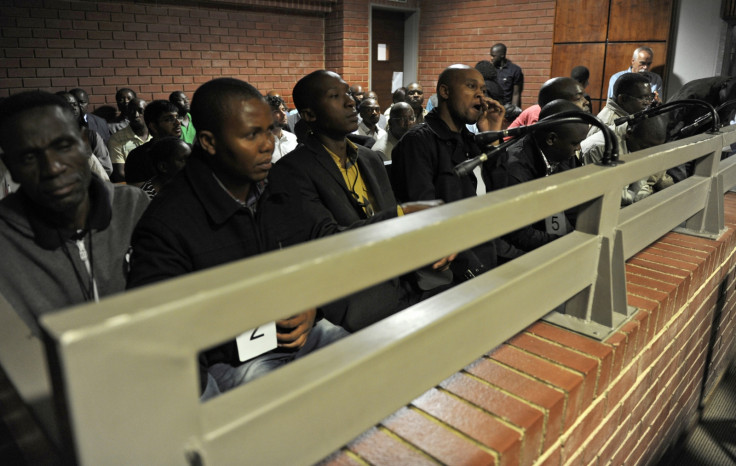 All eight police officers accused of murdering a taxi driver were found guilty by a Pretoria High Court today (25 August). Mozambican Mido Macia was killed in 2013 after an altercation with police over the legality of his parked car.
He was subsequently bound to the back of an open police van which was then driven away, dragging him along.
In front of Macia's family who were in court for the first time today, Judge Bert Bam ruled that the police could undoubtedly have foreseen that their actions would lead to the death of the 27-year-old. Macia died alone in his cell in a pool of blood just two hours after being hauled down a street in Daveyton, east of Johannesburg.
The incident was recorded by a witness and quickly went viral, causing widespread international backlash at police brutality. President Jacob Zuma strongly criticised the event as "horrific" and "unacceptable".
Meshack Malele, 46, Thamsanqa Ngema, 35, Percy Mnisi, 26, Bongamusa Mdluli, 25, Sipho Ngobeni, 30, Lungisa Gwababa, 31, Bongani Kolisi, 27 and Linda Sololo, 56 all pleaded not guilty to murder and claimed that Macia violently resisted arrest and assaulted a police officer.
The police brutality prompted angry reaction from bystanders who pelted rocks at the van when Macia was dragged away.
The defendants claim that Marcia fell out of the van and his handcuffs accidentally hooked onto the vehicle. However, the judge labelled their defence as riddled with "discrepancies and improbabilities" and said the officers were "trying to teach the deceased a lesson" for swearing.
Macia suffered from head injuries, bruising and cuts while in police custody. The judge said the victim was "unlawfully arrested and detained" and was therefore "entitled" to resist.
"The soft tissue injuries were extensive; the blunt force injuries were severe. In considering all the evidence, it is clear the deceased was indeed assaulted in the police cell. Accused one to eight are convicted of murder," the judge said.
The eight will be sentenced on 22 September and could face 15 years' imprisonment. The Macia case came just months after police shot dead 34 workers who were on strike at a platinum mine in August 2012. Around 1,000 people die per year while in police custody or as a result of police action, according a Reuters report.