The grandson of Nelson Mandela has appeared in a Johannesburg court on 18 August, charged with raping a 15-year-old girl in a restaurant toilet. Because of reporting restrictions the man cannot be named, but he is believed to be in his twenties.
He appeared at Johannesburg magistrate's court and has been remanded in custody. He awaits trial for the alleged rape which is said to have taken place on 7 August. Police in Johannesburg said the incident took place in Greenside, a suburb of South Africa's most populous city, which boasts a number of popular bars and restaurants.
The South African tabloid the Daily Sun has alleged that the former South African President's ex-wife Winnie Madikizela-Mandela tried to cover up the incident. Madikizela-Mandela is a member of ANC ruling party's National Executive Committee and a former head of the ANC Women's League.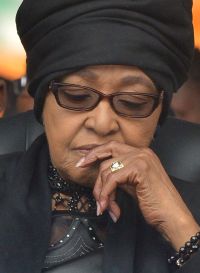 Quoting a spokesman for the family of the 15-year-old girl, Daily Sun reported that Madikizela-Mandela had initially asked for time for her family to deal with the situation. Days later, a Mandela family security guard arrived at the victim's house posing as a policeman.
"Winnie's bodyguard went to the family pretending to be a cop. The father was told there was no need to arrest the suspect but when the father asked to see his badge, he didn't have one. It turned out he had been sent by Winnie," said a spokesperson for the family.
"Just because they have a famous surname, they think they can get away with crime. Children can't just be raped and then everything is alright. The girl is young and doesn't even drink," he added.
Winnie Mandela then said, following a meeting at her home, that her grandson would be handed over to the police and a press conference would be called. Neither of these two things happened.
In March 2015, another of Nelson Mandela's grand children faced the media spotlight and criminal charges. Mandla Mandela, a South African member of parliament, was found guilty of beating up a man who had crashed his car into a friend's vehicle in the Eastern Cape. He pistol whipped the man who crashed the car, hospitalising him.
In June 2015, Nelson Mandela's grandson Zondwa Mandela and Khulubuse Zuma, a nephew of President Jacob Zuma, where found liable for the failed Aurora gold mine. Mandela along with three others were found to have fraudulently represented their ability to fund the mine. The resultant decay put 5,000 workers out of jobs without pay.