South Africa: Fees Must Fall protests will continue as Jacob Zuma to meet students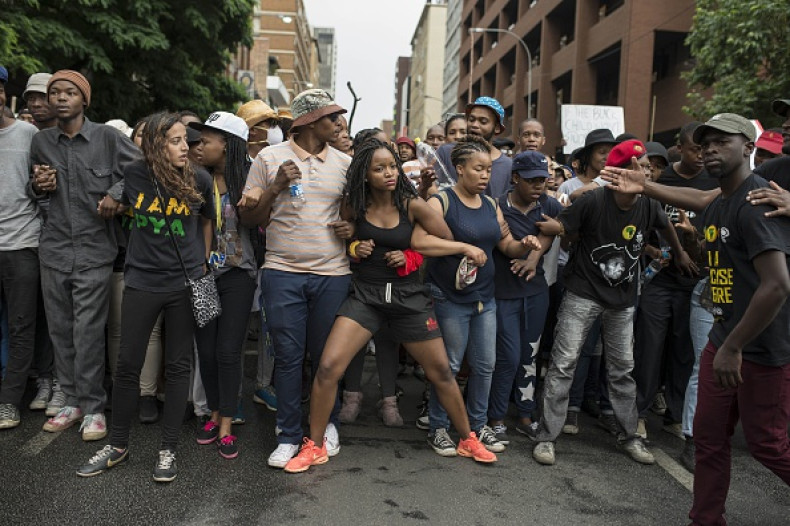 South African students will keep protesting against a proposed rise in tuition fees even after some demonstrators clashed with police and were arrested in Cape Town. Protests started earlier in October after the government proposed to increase fees by between 10% and 12% .
Hundreds of students, who argued the fees will prevent poor black youths from accessing education, descended on the streets to protest with student bodies threatening to close universities across the country. Hundreds of people have also taken to social media to voice their dissent under the hashtags #FeesMustFall and #NationalShutDown.
Police fired tear gas and stun grenades as protesters tried to enter the parliament complex on Wednesday (21 October) to disrupt a budget speech being delivered by finance minister Nhlanhla Nene.
According to a statement by the police, at least 30 students had been arrested during the protest and "further criminal action against those that may have transgressed the law will be considered". Those arrested outside the parliament face charges including trespassing and public violence. According to the statement, police are "satisfied with the manner in which the situation was managed by police outside parliament today (21 October) despite being constantly provoked by the students".
The US expressed concern over police action during the riots. It is believed some students brought an application in the Western Cape High Court to interdict police members who interfered with what they said was a peaceful protest.
Protesters have rejected a proposal by some student leaders and government officials to cap fee increases at 6% for the next year. Protests have occurred in several universities across the country including in Pretoria, Johannesburg, Durban, Cape Town, Port Elizabeth, Potchefstroom and Grahamstown. More rallies are expected as students announced on social media they do not intend to back down.
President Jacob Zuma announced on Thursday (22 October) he will meet student and university leaders to discuss tuition fees. "All parties should allow space for this matter to be discussed in a manner that will enable us to find a solution," Zuma was quoted by Reuters as saying.
Some protesters said the present scenario echoes protests which occurred in Soweto, Johannesburg, in 1976, when hundreds of unarmed students were shot dead by South African police during a protest against the Afrikaans Medium Decree.
Black high school students took to the streets to protest against this new decree, which introduced Afrikaans as a compulsory language for education. According to the decree, maths and social studies were to be taught in Afrikaans, with general science and practical subjects in English, while indigenous languages would only be used for religion and music. The exact number of victims is unknown, with estimates ranging from 176 to 700.