South African police fired rubber bullets and tear gas at students on Wednesday (21 October) during a protest against the rise in tuition fees at Nelson Mandela Metropolitan University (NMMU). The protest was staged as part of a campaign by the South African Student Congress Organisation (Sasco) against rising tuition fees.
Sasco called for the nationwide day of protest and more than 15 universities in South Africa are believed to be participating in the call for lower tuition fees, including Rhodes University in Grahamstown, where academic staff are said to have taken part in support of their students. Students across South Africa mobilised to occupying their campuses in what has been labelled a 'national shutdown' aimed at bringing university operations to a standstill.
Students at NMMU said that their university had recently increased tuition fees, which had led to many students being forced to drop out as they could no longer afford to be there. They also claim that the university has prevented some of them from applying for student loans on the basis that they are "too poor" and would be "unable to pay them back". NMMU students joined the national shutdown to call on their university to return to previous fees that they believe were "reasonable".
#NationalShutDown was trending worldwide on Wednesday as students took to Twitter to document the protests taking place on their campuses. However, the campaign quickly turned to reports by students alleging violence by the police, with many at NMMU saying that tear gas and rubber bullets were fired at them during a peaceful sit-in.
"We weren't even doing anything and the police just attacked us," Zikhona Maboza, a first-year IT student, told IBTimes UK. "We were sitting down – because it was a sit-in – and the police just attacked us. They threw tear gas and they shot us with stun guns."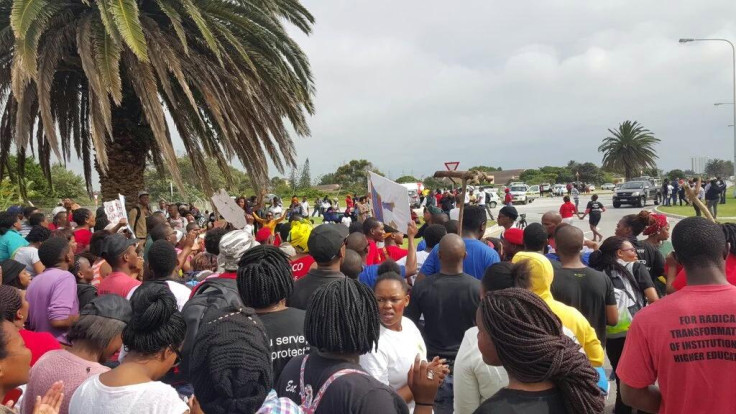 Maboza, who is at the centre of the ongoing protests, said that one student was shot by a rubber bullet while she was sitting with the other protesters. She said that despite the protest being relatively small at the time, with only about a 100 students participating in the sit-in, police began firing at them.
She said: "We thought that they were just going to fire in the air but they shot the stun guns straight through the students. While doing that the police also called us 'k*****s'. They were being racist and using apartheid tactics."
Other student protesters at NMMU took to Twitter to make similar complaints about the police treatment of protesters. A video also claims to show the moment that police shot rubber bullets at students during the sit-in.
Students confirmed that classes had been cancelled for the day and that the university shuttle service was not bringing students to the campus. Because of this, many students were unable to get to the university to take part in the protest.
Maboza said that people in their local area, as well as some in nearby towns, had begun providing transport to take the students from their homes to the campus to support protesters. One student, Awethu, appeared to be coordinating student pick ups on her Twitter page.
A few hours after the protests began, NMMU university management published a statement on its website saying that the protest was being monitored and that "necessary steps" will be taken to ensure safety and security. The statement also announced that the vice chancellor would be holding a talk with students the following day (Thursday 22 October). A statement from the vice chancellor was then released, in which he criticised protesters for not following "university rules regarding protest action".
As the protests continued through the day, Sasco published an "urgent call" on its Twitter page for lawyers to stand by as they believed "many students are going to be arrested". Maboza said: "Students are still protesting and they refuse to leave. Even if they use tear gas and stun grenades we're going to stay here."