Seven Chinese vessels have been detained after at least 11 vessels were caught fishing illegally near the coast of West African countries – Guinea, Sierra Leone and Guinea-Bissau.
Authorities have released four ships after their owners paid fines, while the other seven vessels are still under investigation. The owners of the detained boats could be subject to millions of dollars in fines, according to Greenpeace environmental group and government officials.
Media reports suggest that when inspectors from the three West African countries patrolled the waters they found that Chinese vessels were not following the regulations of the region. The boats were reportedly catching protected fish and used nets with small holes to catch bigger fish.
The inspectors are thought to have been patrolling the West African waters for the past two months on a Greenpeace ship, named the Esperanza, and the arrests have come following this.
The environmental group assisted the inspectors to raid the vessels in a bid to supplement national efforts of the three countries that are reported to often have budget constraint or inadequate technological support.
"This is a surprisingly high amount of arrests, especially considering that the vessels knew about our patrols in advance," Greenpeace's Pavel Klinckhamers said, according to a Reuters report on Wednesday (4 May).
The inspectors reportedly stopped 37 vessels of which 11 were found to have breached regulations. The local authorities were informed about the incident, who later towed the boats to the ports.
Guinea confirmed the detentions of Chinese ships. The country lacks sufficient funds and boats to effectively control illegal fishing, Guinea's fishing minister Andre Loua said.
Sierra Leone Minister of Information Mohamed Bangura confirmed the release of three Chinese vessels that had been detained after fines were paid. However, a Guinea-Bissau fishing official said they were still negotiating the fines for some of the seized vessels.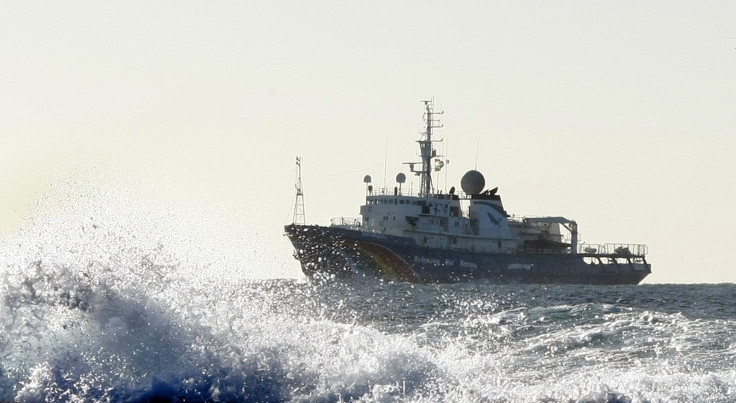 Two other foreign ships were also found to have been non-compliant in the West African coast, which has some of the richest waters in the world, Greenpeace said. One of the boats found was reportedly a European ship which had shark fins onboard, and the group added that authorities are investigating this boat also.
Reacting to the incident, Chinese Foreign Ministry spokesman Geng Shuang said the communist country always opposes all forms of illegal fishing and only demand that firms follow maritime law and protect the environment.
"China hopes that the relevant countries can enforce the law in a civilised manner, handle it in accordance with the law and protect the legal rights of the relevant Chinese companies and their employees," Geng was quoted as saying by Reuters.