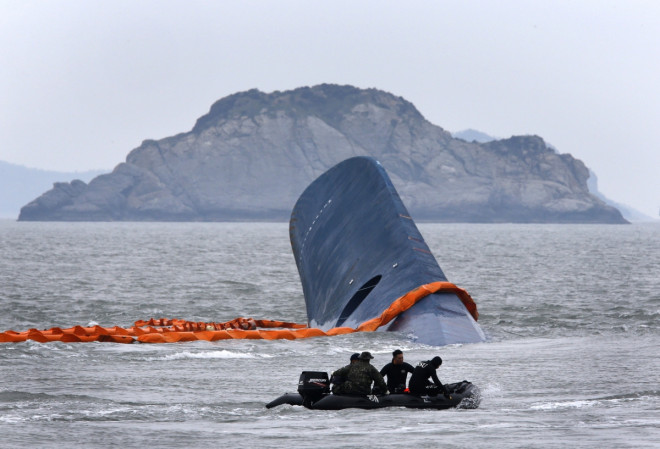 Emergency services are still searching for nearly 300 people missing after a South Korean ferry carrying over 470 passengers sank on Wednesday.
The ship, called Sewol, was travelling from Incheon port, in the north-west, to the southern island of Jeju, a volcanic holiday destination.
Officials have said 179 people have been rescued and the majority of the passengers were pupils at the Danwon high school in Ansan, near Seoul. The students, aged betwen 16 and 17, were heading on a field trip to Jeju island.
South Korea's president, Park Geun-hye, has visited the wreckage and urged rescuers to "hurry", warning that time was running out to save trapped passengers.
Here is what we know so far:
Fatalities
Nine people have been confirmed dead, including four 17-year-old students and a 25-year-old teacher. The identity of the other three have not yet been confirmed with the number of fatalities expected to rise, as the missing have now spent over 24 hours in the ferry or in the cold seawater.
Adverse weather conditions have hindered search efforts to find the remaining 287 passengers, as families wait for more news.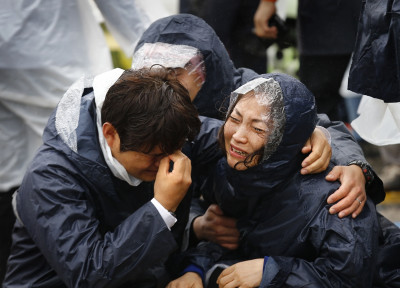 South Korea's Yonhap news agency has reported that one Russian and two Chinese pasengers are among the missing.
Search effort
Naval and coastguard vessels are using flare and floodlights to lead a search involving over 500 divers, 169 vessels and 29 aircraft. The divers, from the South Korean military, have been battling high winds and waves to access the ship.
Kang Byung-kyu, minister for security and public administration, said: "We carried out underwater searches five times from midnight until early in the morning, but strong currents and the murky water pose tremendous obstacles."
Yet some officials have said it was unlikely the remaining passengers will be found alive. One coastguard official told an AFP journalist: "Honestly, I think the chances of finding anyone alive are close to zero."
The US Navy has sent an amphibious assault ship, the USS Bonhomme Richard, to assist the search.
Cause unclear
Some reports have stated the ferry went off course, yet it is unknown as to what caused the ship to list violently and capsize. Experts have suggested the vessel may have hit a submerged object.
According to the ministry of security and public administration, the ferry was three hours away from its destination when it sent a distress call after it began listing to one side. The distress call was sent around 9am local time, midnight GMT, on Wednesday, approximately 20km off the island of Byungpoong. It sank in around 100ft of water just two hours later.
One passenger, Kim Seong-mok, told the broadcaster YTN that after having breakfast he felt the ferry tilt and then heard it crash into something. He said he was sure that many people were trapped inside the ferry as water rushed in and the severe tilt of the vessel kept them from reaching the exits.
The figures of missing passengers issued by the government have changed several times, prompting criticism from grieving relatives.
Several survivors have said they were told by crew members not to move. One student who wanted to remain anonymous told AFP: "We must have waited 30 to 40 minutes after the crew told us to stay put. Then everything tilted over and everyone started screaming and scrambling to get out."
Distraught relatives, who are gathered in a gymnasium on nearby Jindo island, insisted more should be done. One father shouted to government officials and rescue teams: "Get my child out of that ship! Dead or alive."
Messages
Passengers trapped inside the vessel sent messages to loved ones, stating they were alive but trapped inside the ferry.
One message, sent from a student to 30 members of his theatre club, read: "Love you all for real. If I've wronged any of you, forgive me."
Another read: "Mom, this might be the last chance to tell you I love you."
Captain investigated
The relatives of passengers are questioning the role of the captain, who is being interviewed by police, according to Yonhap news agency.
Captain Lee Joon-seok was shown on television saying: "I am really sorry and deeply ashamed. I don't know what to say."
The parents of the missing children have accused Joon-seok of abandoning passengers after it emerged that he and six other crew members were among the first to leave the ship when it started to sink.
He escaped from the 6,835-ton ship at about 9:30am on Wednesday, 40 minutes after the vessel apparently ran aground.