The South Korean presidential office convened a high-level national security meeting within hours of North Korea launching its ballistic missile. Chaired by the president's national security adviser, the National Security Council (NSC) is thought to have discussed immediate steps to be taken subsequent to the launch.
The Pyongyang regime fired off a ballistic missile, suspected to be a medium-range projectile, on Wednesday, 5 April, in yet another defiant act violating UN regulations. Both South Korean and American officials are closely monitoring the situation and have not said whether the test-firing was successful or a failure. The latest test is North Korea's fourth using ballistic technology since January 2017.
South Korea's multiple establishments including the unification and foreign ministries chose strong words to condemn North Korea's belligerent act. "The North Korean regime should squarely see that these reckless provocations along with the recent assassination of Kim Jong-nam with a chemical weapon would strengthen the push for sanctions and punitive measures and eventually accelerate its path toward self-destruction," a foreign ministry spokesperson in Seoul said.
The projectile, KN-15 type missile or Pukguksong-2 with a total flight range of about 190kms, flew nearly 60kms before landing in the waters of the East Sea, also known as the Sea of Japan. South Korean officials suspect the missile launch was aimed as a show of force by the North in view of the upcoming US-China summit which will have Pyongyang on top of the agenda.
The US Pacific Command, South Korean navy's Aegis vessel, and air force missile warning system all tracked the missile's path. Unlike the earlier launches, the latest missile splashed into the waters outside Japan's economic zone.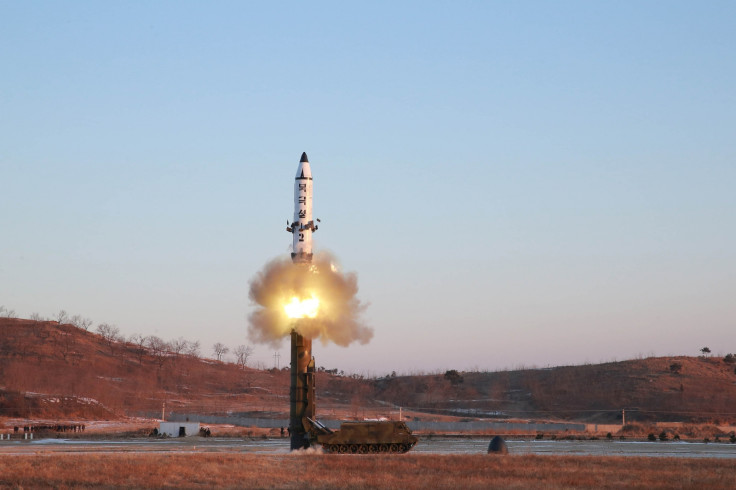 Japan's Prime Minister Shinzo Abe said Tokyo was prepared for more such provocations from North Korea. He added that his country was closely working with South Korea and the US to take necessary measures to protect civilian lives and military assets in the region.
The missile launch has occurred amid growing concerns that the North Korean regime may also conduct another nuclear detonation in the near future as a show of strength against is adversaries.