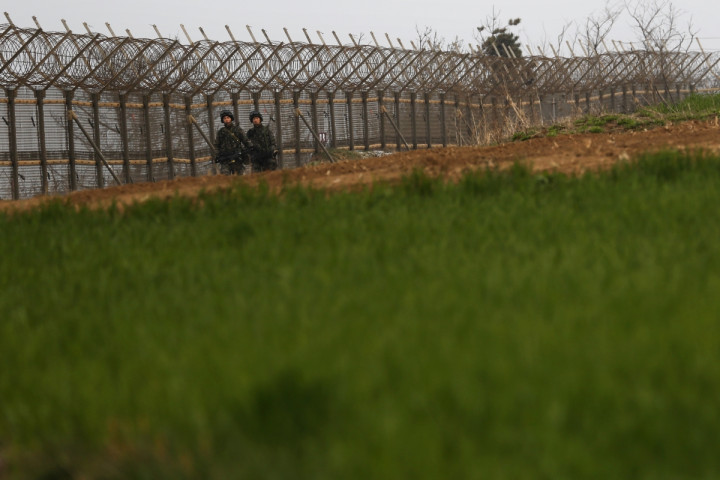 A South Korean army sergeant who shot dead five of his comrades is in a standoff with police who have surrounded an elementary school in Goseong, near an army border outpost.
Local media report that that there has been gunfire at the scene, and that authorities are trying to persuade the man, identified only by his family name of Lim, to surrender.
One military officer has been reported wounded in the shootout.
Five soldiers were killed and seven wounded on Saturday night at 8.15pm at the army outpost in Gangwon province, near the border with North Korea, when Lim fired 10 shots with his K-2 rifle, according to military authorities.
The South Korean military said that he had just finished a six-hour guard duty shift when he started shooting.
Defence official Kim Min-seok said Sunday at a televised briefing that all the wounded were expected to survive, although two were injured seriously.
A grenade also went off near the scene of the rampage, and investigators are trying to establish whether it caused injuries.
Lim fled with a grenade, a grenade, a gun and about 60 rounds of ammunition.
The Korean military set up a crisis management team to find the officer.
"Lim was on the list of those who require special attention, as he had difficulties in adapting to the military life," an officer told news agency Yonhap, adding that the motive for the shootings remains unknown.
"The military has strengthened vigilance against the possibility that he might commit more crimes," another army officer said. "We're also guarding against his possible crossing into North Korea."
It is not the first time a soldier with the South Korean military has murdered colleagues in a mass shooting spree.
In 2005 an army private set off a hand grenade and opened fire in a border outpost near North Korea, killing eight sleeping colleagues and wounding two others.
In 2011, a Marine Corps colonel went on a shooting rampage at a unit in Ganghwa Island, west of Seoul, killing four and wounding one.