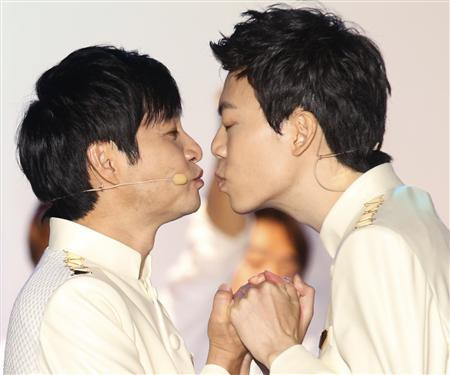 A prominent South Korean gay rights campaigner and movie director Kim Jho Gwang-Soo is suing the authorities for refusing to recognise his marriage to partner Kim Seung-Hwan in 2013.
Boosted by the landmark US Supreme Court ruling on 26 June making same-sex marriage legal throughout the US, the couple filed a court case in a district court in western Seoul to acquire legal status for their marriage.
The couple married in an outdoor ceremony in Seoul in September 2013. They submitted their marriage registration to the local authorities but it was rejected.
Homosexuality is not illegal in South Korea but same sex marriage is not legally recognised.
South Korea is however still highly conservative on sexual identity and homosexuality.
This is the first time that a same sex couple in South Korea is fighting to have their married status recognised by the authorities.
"If you are a Korean citizen, you are equal under Korean law. I hope through this trial we can uncover this constitutional principle," Kim told reporters outside the court which held its first day of hearing behind closed doors, AFP reported.
Kim is the first South Korean show business personality to get married to a same sex partner and the second ever to come out openly to say he was gay. The other showbiz personality, has now said that he regrets his decision to come out, Reuters reported.
On 28 June, Seoul saw its biggest annual gay pride parade, with more than 20,000 people taking part, according to organisers.