The US Supreme Court has ruled that same-sex marriages are now legal in all 50 states.
The landmark 5-4 decision means gay couples have the right to marry anywhere in the US. Gay marriage had previously been illegal in 13 of the 50 states.
The announcement follows decades of campaigning and activism in the US and is arguably the biggest civil rights case in a generation.
Justice Anthony Kennedy, writing on behalf of the court, announced: "No union is more profound than marriage, for it embodies the highest ideals of love, fidelity, devotion, sacrifice and family. In forming a marital union, two people become something greater than once they were.
"As some of the petitioners in these cases demonstrate, marriage embodies a love that may endure even past death.
"It would misunderstand these men and women to say they disrespect the idea of marriage. Their plea is that they do respect it, respect it so deeply that they seek to find its fulfilment for themselves.
"Their hope is not to be condemned to live in loneliness, excluded from one of civilisation's oldest institutions. They ask for equal dignity in the eyes of the law. The constitution grants them that right."
Following the announcement, US President Barack Obama said on Twitter: "Today is a big step in our march toward equality. Gay and lesbian couples now have the right to marry, just like anyone else."
Hilary Clinton, favourite to become the 2016 Democratic presidential nomination, said she was "proud to celebrate a historic victory for marriage equality" having previously opposed same-sex marriage.
However, Republican presidential candidate Mike Huckabee described the "flawed" decision as an "out-of-control act of unconstitutional judicial tyranny".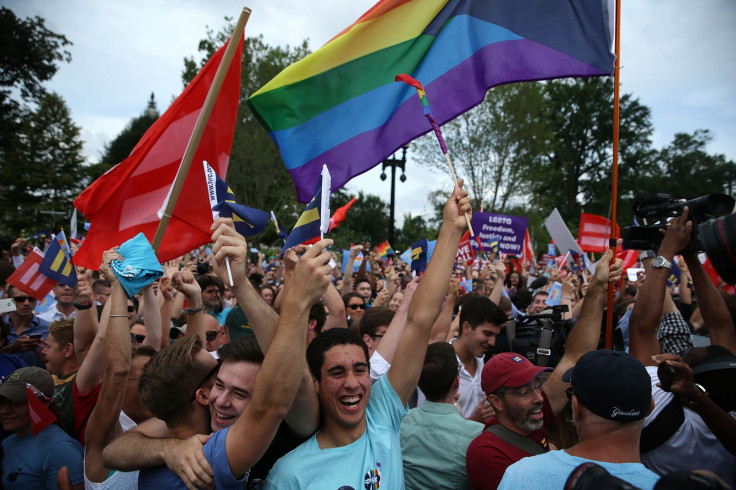 Evan Wolfson, founder and president of Freedom to Marry, said: "Today's ruling is a transformative triumph decades in the making, a momentous victory for freedom, equality, inclusion, and above all, love. For anyone who ever doubted that we could bend the arc of the moral universe toward justice, today the United States again took a giant step toward the more perfect union we the people aspire to. Today the Liberty Bell rings alongside wedding bells across an ocean of joy."
Chief Justice John Roberts and Justices Antonin Scalia, Samuel Alito and Clarence Thomas were the ones who voted against the motion, while Justices Anthony Kennedy, Ruth Bader Ginsburg, Elena Kagan, Stephen Breyer and Sonia Sotomayor ruled in favour.
It is not yet known how long it will take for the changes to be implemented in states where gay marriage was previously illegal.