South Korean police have arrested a 22-year-old unemployed man in the North Gyeongsang Province for allegedly leaving his 28-month son at home to starve to death while he played online computer games at an internet café for several days.
According to South Korean newspaper Yong Hup News, the man, who has been identified only by his family name Jeong, confessed to leaving his child unattended for 10 days in late February in the city of Daegu, South Korea's fourth largest city.
He came home in early March to find the dead body and according to police, hid the body out on the veranda of his apartment complex for a month before wrapping it up in a blanket and plastic bag and leaving the body in a flower garden a mile away from his home.
Jeong initially reported the baby as missing but later admitted his part in the baby's death after being questioned, the police said.
According to a translation of the Yong Hup News report, the police are still investigating Jeong in order to decide whether to bring wilful murder charges against him. The Deagu Dongbu police said that Jeong's story kept changing throughout the investigation – he allegedly said that the baby was in day care at one point, and then with his sister at another point.
CCTV camera footage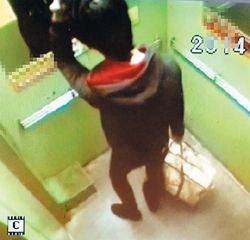 CCTV footage from a camera in the lift in Jeong's apartment block discovered by the Deagu Dongbu police shows a man looking in the mirror in the lift tidying his hair, while carrying a bag that could have contained the child's dead body.
It is believed that Jeong, who has a criminal record, separated from his wife in February and spent most of his time since then in internet cafes.
This is not the first time that obsessive gaming has led to a child's death in South Korea. In 2012, a woman in Seoul was found guilty of strangling her newborn baby to death while at a cyber café.
South Korean state media reported that she was unaware that she was pregnant and gave birth to the baby while in the café.
Income from gaming
Also, in 2010, a couple, also in Seoul, killed their infant daughter after leaving her at home while they played a game in which they raised a virtual child all night in an internet café.
The child had been born prematurely, weighed just five pounds and was allegedly fed only once a day, often with formula that had gone rotten.
The couple claimed that winning virtual items and selling them for cash was the only way for them to make their income, and they served just two years for causing their child's death due to malnourishment.