The three opposition parties in South Korea said on Wednesday, 30 November, that they will go ahead with their planned impeachment motion against President Park Geun-hye later this week. They also ruled out any talks with the ruling party over shortening the president's tenure.
On Tuesday, 29 November, Park gave in to weeks of public anger and protests over an influence-peddling scandal involving her confidante Choi Soon-sil, who is currently in police custody facing corruption charges. Park offered to step down in line with a timetable and legal procedures agreed upon by the ruling and opposition parties.
However, the opposition parties demanded on Wednesday that the president resign "immediately and unconditionally". They also urged the lawmakers from the ruling Saenuri Party to back their impeachment motion on 9 December, to ensure the president's ouster. But Park loyalists in the ruling party urged the opposition to put their impeachment motion on hold, while anti-Park lawmakers from the ruling party want the president to quit by the end of April, Yonhap news agency reported.
The opposition parties who have only 172 seats in the 300-seat National Assembly need at least 28 Saenuri lawmakers to back their impeachment motion for its successful passage.
A group of anti-Park Saenuri lawmakers said they have mustered the required support.
"There was concern that we may waver after the president's speech yesterday (Tuesday), but we confirmed in today's meeting that our position has gotten even stronger," Rep Hwang Young-cheul, the spokesman of the emergency council of non-Park loyalists, was quoted by the news agency as saying.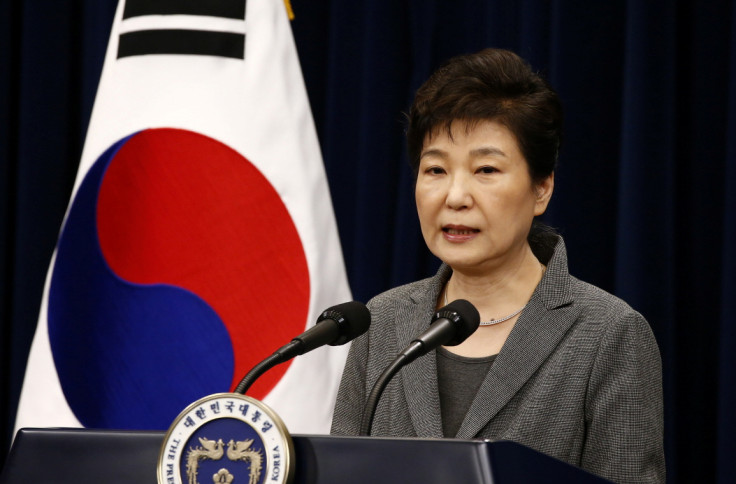 "It is important that the president clearly state the date of her resignation to prove her sincerity," the lawmaker added. He said they want the ruling and opposition parties to decide on Park's fate by 8 December, failing which they will join the impeachment vote the next day.
Rep Chung Jin-suk, the ruling party's floor leader who is not included in the non-Park loyalists group, said the president should consider resigning by April-end to pave the way for an election in June.
"If parliament passes the impeachment motion, we would have only to wait for the Constitutional Court's decision, which will lead to further confusion in state affairs," Chung warned.
Meanwhile, two former presidential secretaries have been named in the corruption scandal: Kim Ki-choon, former presidential chief of staff, and Woo Byung-woo, ex-senior presidential secretary for civil affairs. The Ministry of Justice and the Supreme Prosecutors' Office named the two former officials in a document written for the parliamentary probe over the scandal, Yonhap reported