Opposition parties in South Korea are divided over the timing of the impeachment motion against President Park Geun-hye.
Many lawmakers, both from the ruling Saenuri Party and the opposition parties, want the president to voluntarily quit office. However, Park left the decision to parliament, causing uncertainties.
The three opposition parties have already said they will not engage in talks with the ruling party over shortening Park's tenure, and will go ahead with her impeachment motion vote on Friday, 2 December.
However, on Thursday, the minor opposition People's Party said they needed more time to gather support for the impeachment from both ruling and opposition parties.
"Our goal is to impeach Park, rather than the motion itself, although the main opposition Democratic Party plans to propose it today," Rep Lee Yong-ho, the spokesman of the People's Party, was quoted by Yonhap news agency as saying.
Tens of thousands took to the streets over the past few weeks demanding Park's resignation after her close confidante Choi Soon-sil was arrested for allegedly using her position to influence government decisions. Park had admitted her fault in trusting wrong people, but avoided resigning until Tuesday (29 November) when in a televised speech she announced her willingness to quit.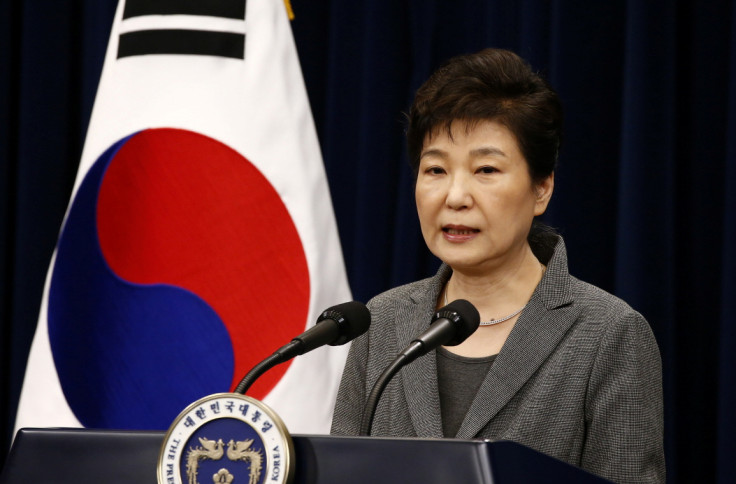 "As the non-Park members of Saenuri wish to continue discussions until next Wednesday, it is unlikely that the motion will be passed (on Friday)," the People's Party's Lee added.
The anti-Park members of the ruling Saenuri Party said earlier that they have secured sufficient support from fellow partymen to pass the impeachment motion. To pass the motion, the opposition needs the approval of at least 200 lawmakers in the 300-seat National Assembly. The opposition has only 172 seats in the parliament and thus is banking on the anti-Park Saenuri members.
Amid the deepening political crisis, the Saenuri Party said it will ask Park to step down before the end of April 2017 to allow the next presidential election to be held in June 2017, Yonhap said in a separate report.
Rep Chung Jin-suk, the floor leader of Saenuri, said it was a unanimous decision of the party to have Park step down by late April 2017 as the party believed they need ample time to prepare for the presidential election and the orderly handover of power.
Meanwhile, a majority of those who took part in an opinion poll favoured Park's exit. Real Meter's survey conducted following Park's Tuesday speech showed that 75.3% of the 1,039 South Koreans polled were in favour of Park's ouster, while 17.3% were in her support.