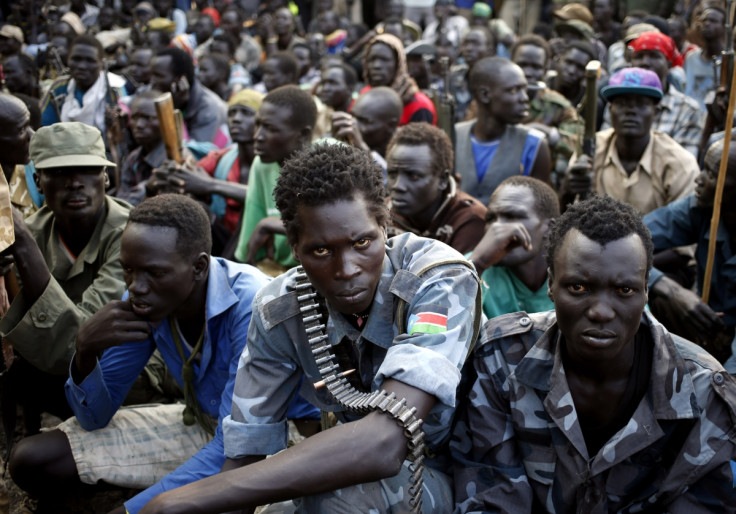 Rebels who seized the capital of the oil-rich Unity state in South Sudan carried out targeted killings against ethnic groups, according to the United Nations.
The United Nations Mission in South Sudan (Unmiss) reported that hundreds of foreign and South Sudanese civilians were hunted down and killed according to their nationality and ethnicity.
Rebel troops overran the oil hub of Bentiu and took civilians who were hiding in a mosque, a Catholic church and a hospital. They also took over a local radio station and broadcast hate speeches, according to the UN mission.
Unmiss said that more than 200 civilians were killed in the attack on the mosque alone, after government forces left the town.
The rebel commander, Riek Machar, denied that his group was behind the slaughter.
"I contacted the field military commander in Bentiu who told me that such accusation is false," he told Al Jazeera. "We respect our people, and the majority of the forces are from the region. We can't kill our citizens.
"The government forces and their allies committed these heinous crimes while retreating," rebel spokesman Lul Ruai Koang said.
"Claims that our forces are responsible is unfounded, cheap propaganda."
The conflict in the world's newest state has taken on an ethnic dimension, with reports of massacres on both sides since the violence erupted in December.
Rebel forces are loyal to the former vice-president Riek Machar, who belongs to the Nuer group.
The country's president Salva Kiir is a member of the largest ethnic group, the Dinka.
Machar was sacked after the president accused him of plotting a coup. He denied the charge, but has since backed a rebellion against the incumbent.
Bentiu is a key town due to its proximity to the country's lucrative oilfields and has changed hands many times throughout the conflict. South Sudan relies on oil production for more than 90% of its government revenues, but the fighting has halted production in many areas. The escalating conflict could hamper production further and have an impact on world markets.
The rebels threatened oil companies and ordered staff evacuation or "risk forced shutdown and the safety of their staff".
"The recapturing of Bentiu marks the first phase of liberation of oilfields from [the] anti-democratic and genocidal forces of [President Salva] Kiir," the rebels said.
Separately, an oil ministry official said that three Russian oil workers were injured in a rebel attack at a refinery facility in Bentiu on Monday.