South Sudan conflict: Rebel leader Riek Machar seeks Uganda's help to end civil war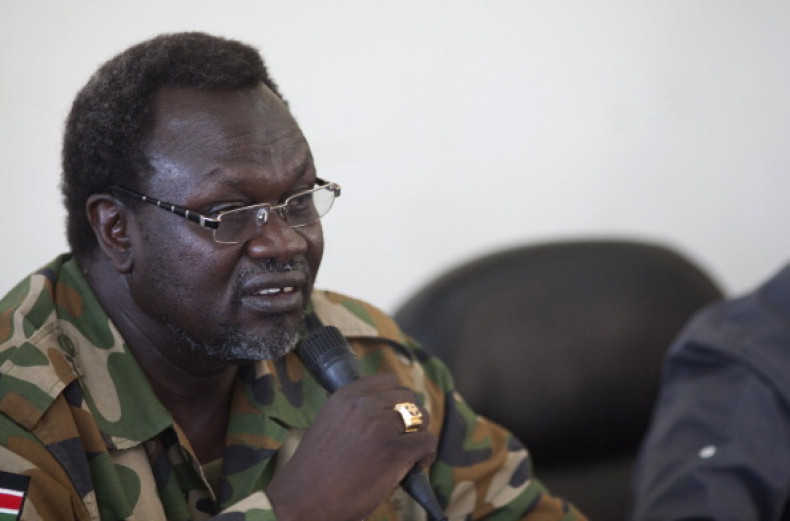 Former South Sudanese vice-president and now rebel leader Riek Machar has travelled to Uganda to seek help to end civil war in his country. Machar, leader of the Sudan People's Liberation Movement (SPLM/A-IO), is to meet Ugandan President Yoweri Museveni to discuss ways to successfully implement a peace agreement in South Sudan, the world's newest nation.
Machar said he made the decision after being invited by the Uganda's External Security Organisation (ESO), despite the fact that Museveni supports South Sudan's President Salva Kiir.
"I am hereby confirming my acceptance to visit Kampala, Uganda to meet my brother President Museveni to discuss the future of my beloved country South Sudan and bilateral relations with sisterly country Uganda," Machar wrote in a letter accepting ESO's invitation, according to South Sudan News Agency.
The news of Machar's visit was met with dissent among some South Sudanese rebels. It is believed that the visit aims to seek Museveni's support to convince Kiir to backtrack on his plan to increase the number of states from 10 to 28, a decision that goes against the latest peace deal.
As part of the deal, signed by both Machar and Kiir in the capital Juba in August 2015, the warring sides committed to creating a transitional government by 22 January.
However, the leaders missed the deadline as rebels opposed to Kiir's decision to create 18 new states, arguing that any plan to further divide the country should be discussed after the interim government was put in place. The missed deadline is seen by many as a threat to a successful implementation of the peace deal that might worsen the ongoing violence in the nation.
Uganda's role in the conflict
Uganda has had an important role in supporting Kiir's government since the conflict erupted in 2013. In December of that year, Kampala deployed troops after Kiir warned rebels were fighting to gain control of Juba.
South Sudanese rebels were initially opposed to the presence of Ugandan troops in the country, but in August 2014 they agreed the soldiers could remain until a regional peacekeeping force was deployed.
Uganda was criticised by some for taking sides in the conflict, but Kampala always maintained it had deployed troops to protect South Sudanese civilians and ensure security on all sides of Uganda's borders.
Some civilians displaced by the conflict, however, have claimed Ugandan troops were only interested in protecting Kiir. In October 2015, Uganda announced it would pull out its troops as part of the August agreement. The withdrawal of foreign troops was one of the key demands made by the rebels.
What sparked South Sudan conflict?
War in South Sudan erupted in 2013 when Kiir, from the Dinka ethnic group, accused Machar, from the Nuer group, of plotting a coup. The accusations sparked violence in the country, where factions loyal to Kiir and Machar engaged in tit-for-tat violence that resulted in the death of thousands.
Both sides have been accused of committing war crimes and crimes against humanity, including rape, torture and the use of child soldiers. Hundreds of thousands of people have also fled the country or are internally displaced and the country's stability is further undermined by falling oil prices, as the African nation is highly dependent on oil revenues.
It is believed that some four million people are at risk of famine. Latest estimates of the Integrated Food Security Phase Classification (IPC) suggested 3.1 million are "in crisis", 830,000 are in "emergency" and 30,000 are facing "catastrophe". The areas worst-affected by the conflict are the Leer, Guit, Koch and Mayendit Counties in the Unity State.