Warring sides in the ongoing conflict in South Sudan are sexually abusing civilians, including children as young as two.
The news was delivered by a UN special representative, as the country is failing to halt the civil war erupted last December.
"In my 30 years of experience, I've never witnessed anything like what I saw in Bentiu," Zainab Hawa Bangura told reporters about a recent trip to the northern town, one of the worst hit by the conflict.
"The internally displaced persons seeking refuge there face a combination of... insecurity, unimaginable living conditions, acute day-to-day protection concerns and rampant sexual violence," she said and then added that she was told about "heartbreaking stories of rape, gang rape, abduction, sexual slavery and forced marriage.
"Those who try to fight back against their attackers are often raped with objects instead. Some victims have even been raped to death."
Victims included women, men, girls and boys, of whom at least 74% were below the age of 18.
"The youngest victim they have treated is two years old," Bangura said.
The conflict in South Sudan started last December when president Salva Kiir, from the ethnic Dinka group, fired the then vice-president Riek Machar, an ethnic Nuer, and accused him of plotting to overthrow the regime. Machar denied the allegations and accused Kiir of carrying out violent purges.
The accusations sparked violence among the two ethnic groups.
More than 10,000 people have been killed and at least four million are at risk of a man-made famine due to lack of funds that help NGOs provide basic assistance, such as food and medicine.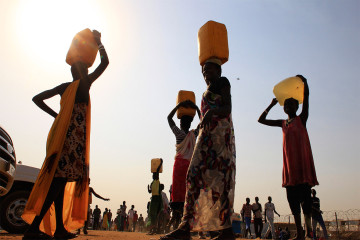 To assist conflict victims and refugees, who amount at 1.5 million, displaced internally and in neighbouring countries, $1.8bn (£1bn) is needed.
Several NGOs have accused both sides of committing crimes against humanity including mutilation, rape and extrajudicial executions.
Kiir and Machar reached a ceasefire deal in February, but this failed to stem the violence as fresh fighting broke out shortly after. Another ceasefire was broken in May.
The warring factions vowed last June to end violence and form a transitional government within 60 days. However, new violence erupted in the country.