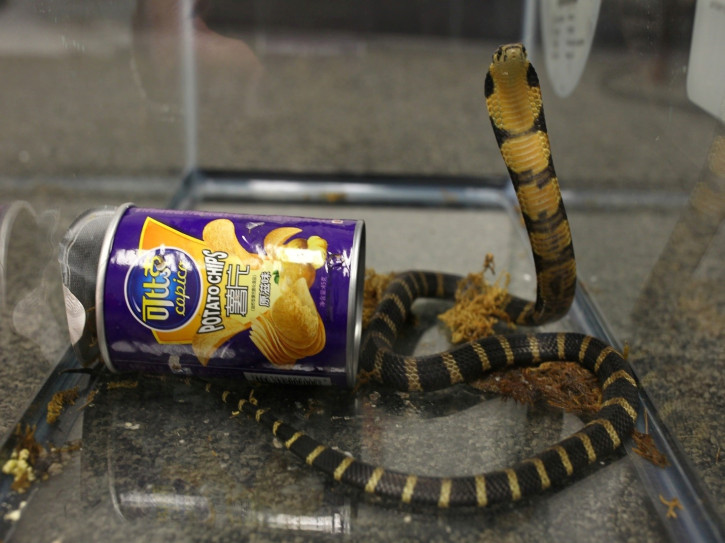 A man was arrested on Tuesday (25 July) in Park outside Los Angeles on suspicion of illegally importing snakes and other reptiles after three deadly king cobras were found in potato chip cans, according to a news release from the Los Angeles District Attorney's Office.
Rodrigo Franco, 34, the man named in an affidavit according to CNN, was taken into custody after the United States Customs and Border Protection inspected a package from Hong Kong on 2 March. They discovered three live, 2-foot-long snakes stuffed into potato chip cans.
According to the affidavit, the parcel sent through the United States Postal Service also contained three albino Chinese soft-shelled turtles, CNN reports.
Franco has been charged with one count of illegally importing merchandise into the US.
The Fish and Wildlife Service had issued a search warrant of his property. A live baby Morelet's crocodile, alligator snapping turtles, a common snapping turtle and five diamond back terrapins were found at this house, according to the affidavit.
During an interview with authorities, Franco said he had received 20 king cobras in two prior shipments. He said all those snakes had died while transporting them.
Officials have obtained evidence from Franco's phone that revealed messages in which he and an individual in Asia discussed the shipping of turtles and snakes between the US and Asia.
The messages on the phone indicated that Franco had previously received live cobras from his contact in Asia. He was going to give five of the snakes to a relative in his contact.
In the latest incident, the snakes were seized by Customs and Border Protection, but the turtles were delivered to the suspect's house in Monterey Park, California. Special agents from the United States Fish and Wildlife Service then raided the address.
If found guilty, Franco will face a maximum sentence of 20 years in federal prison.
King cobras are protected under the Endangered Species Act. Their import or export is banned under the Convention on International Trade in Endangered Species of Wild Fauna and Flora.
The affidavit also stated that Franco had also previously sent a package from the United States to Hong Kong containing six protected turtles, desert box turtles, three-toed box turtles and ornate box turtles, but the United States Fish and Wildlife Service had intercepted that shipment.