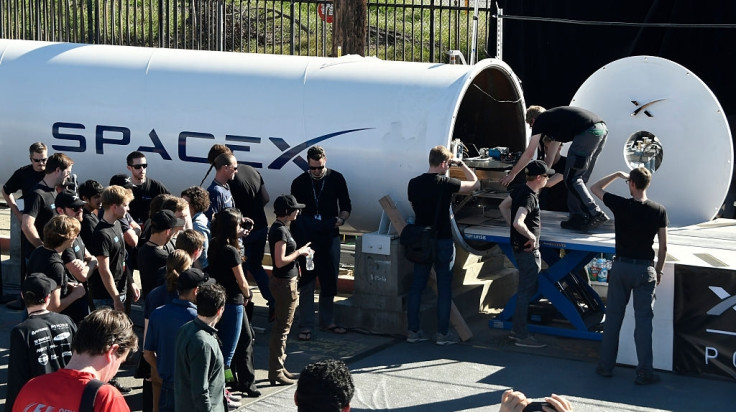 Germany's WARR team has won SpaceX's second Hyperloop Pod competition with a small, electric car-like pod topping 200mph.
As 24 teams from different parts of the world raced their magnetic-levitation pods at SpaceX's 0.77-mile 'Hypertube' track to demonstrate the technical feasibility of various aspects of Elon Musk's hyperloop concept, only one could actually break the speed barrier of over 200 mph – WARR Hyperloop from the Technical University of Munich, Germany.
The winner, which also bagged the top spot in the first competition in January, quadrupled the capabilities of its pod and raced it at a whopping 201mph at the test tube built across SpaceX's campus in Hawthrone, California. The small rapid-transit vehicle weighed just 80kgs, but its 50kw motor proved good enough to outperform other participants, including the finalists.
In a Facebook video from WARR, Musk, who roamed from team to team, can be heard saying: "An electric car in a vacuum tube is the best way to go, obviously." He announced WARR's win to the crowd at SpaceX's HQ and also posted a number of tweets showcasing what could be a new frontier for high-speed transport.
The other two finalists – Paradigm Hyperloop and Swissloop – failed to match WARR's speed, but demonstrated unique engineering approaches with their vehicles. While Paradigm, students from Northeastern University and Memorial University of Newfoundland and Labrador, used SpaceX's pusher to propel their vehicle in the tube with a speed of 60mph, Swissloop from Switzerland's ETH Zurich, used jet propulsion technology to race their pod at a decent 25mph.
Though these speeds are still far from supersonic velocities (600-700mph) envisioned for the futuristic hyperloop transit system, Musk believes there's no reason why they cannot achieve the feat in the years to come. He has already had some serious talks with government officials to turn the concept into a reality.