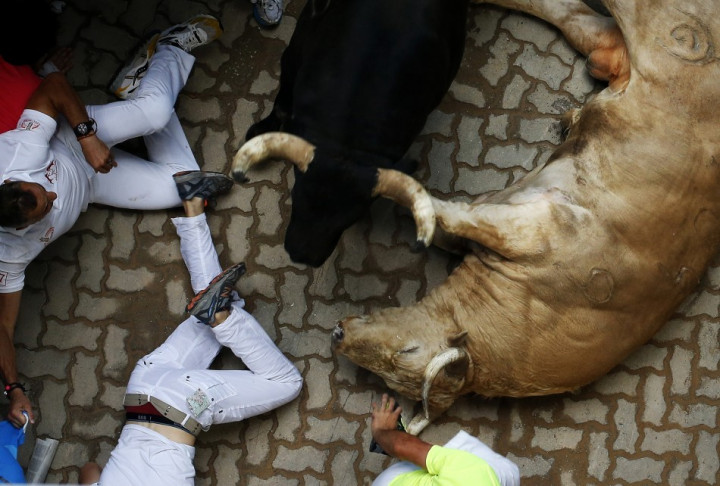 An Irishman is feared seriously injured after a mass pile-up that left several people badly hurt on the final day of the Pamplona Bull Run.
At least one person was seriously injured, local medical officials told Spanish national television, and three were being treated for injuries from falling or being trampled. Others caught in the scrum were being attended to in the bull ring.
Health officials said four people had been taken to hospital. A spokeswoman at San Fermin's festival media office said she had no further information on those in the bull ring, according to a Reuters report.
Three men were gored during Friday's run, including an American tourist who had to have his spleen removed as a result of his injuries.
In the week-long festival, bulls chase hundreds of runners through the town's narrow streets daily. Saturday's run lasted 4 minutes and 15 seconds.
Goring happens from time to time at the bull-running fiestas in Spain every year, but stampedes are rare.
Runners were trampled in a massive crush at the entrance to the bull ring around six animals tried to climb over them to escape.
The Irishman's condition was described as 'serious' and the drama was relayed live on national Spanish TV. A local TV commentator described the scene as 'Dante-esque'.
Local authorities in Pamplona, northern Spain, where the festival runs take place, mobilised the two bull ring emergency medical teams in response.
One lifeless-looking runner was pictured being carried away by paramedics to an on-site operating theatre.
The pile-up happened as hundreds of runners tried to squeeze through a narrow entrance into the bull ring at the end of the half-mile course.
The minute-long drama only ended when workers opened an entrance to an alley running around the bull ring, which bullfighters normally use as a refuge.
The bulls ran down the escape route before being herded towards the safety of pens. The fighting bulls used in the centuries-old fiesta can weigh up to 1,380 pounds (625 kilograms) and have killed 15 people since record-keeping began in 1924.
In the agonising 60 seconds the drama lasted, runners and bulls trapped side by side in the crush tried to climb over each other to safety.
Others reaching the pile-up attempted to save themselves by running back the way they had come - into the path of oncoming bulls that were yet to finish the course.
A total of 21 people - one with gore injuries and several with crush-related injuries - had already been rushed to hospital by ambulance within 90 minutes of the 8am bull run.
A Spaniard is said to be suffering from "traumatic asphyxia" caused by crush injuries to his chest, and his condition was described as "very serious."
Spanish media said it was the worst stampede in decades at the festival.
Watch highlights of the running of the bulls at Pamplona.