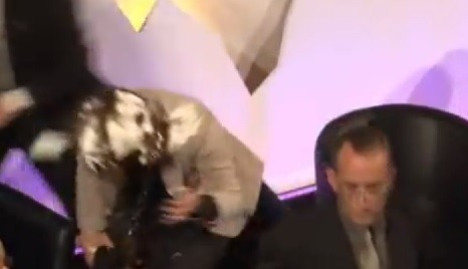 A group of Spanish environmental activists are facing a total of up to 27 years in jail for throwing pies at a regional council officer in a protest over a planned high-speed rail scheme.
The four Spanish men are accused of attacking the head of government for the Navarre region, Yolanda Barcina, with pies during a visit to the French city of Toulouse in October 2011.
According to court documents, the four defendants - Gorka Gamboa, Julio Villanueva, Ibón Garrido and Mikel Forcada - are accused of "hurling said pie in the face of Yolanda Barcina in an energetic fashion" in protest against a rail network planned to run through France via the Spanish Basque country and Navarre regions.
The defendants are part of Mugitu, an environmental group who are known for non-violent protests against the rail plans.
The group's lawyer described the case as reminiscent of the Spanish Inquisition.
Gonzalo Boye told the Guardian: "This case reveals the very worst side of the Spanish judicial system and its total lack of contact with reality. It shows a corrupt judicial and political class prepared to use public resources to try people that have done nothing more than demonstrate their opposition to the destruction of the forest.
"If these people are convicted, the court will look like a tribunal during the Inquisition rather than a modern court of law."
Boye claimed that the court refused the testimonies of all defence eyewitnesses but did accept evidence from two policemen who were not even present during the alleged pie-throwing.
Four other men said to have been involved in the protest - all from France - face no charges in France or in Spain.
Barcina said hat she felt "totally disoriented" after being pummelled with the pies and said it "hurt a lot".
Prosecutors are asking for five-year jail terms for each defendant but Barcina's lawyer is demanding a tougher sentence. Her lawyer has called for Ovejero to be sentenced to nine years because he is an elected official in Arruazu.
The accused said they had no intention of hurting Barcina, but merely wanted to mock her "image of authority".