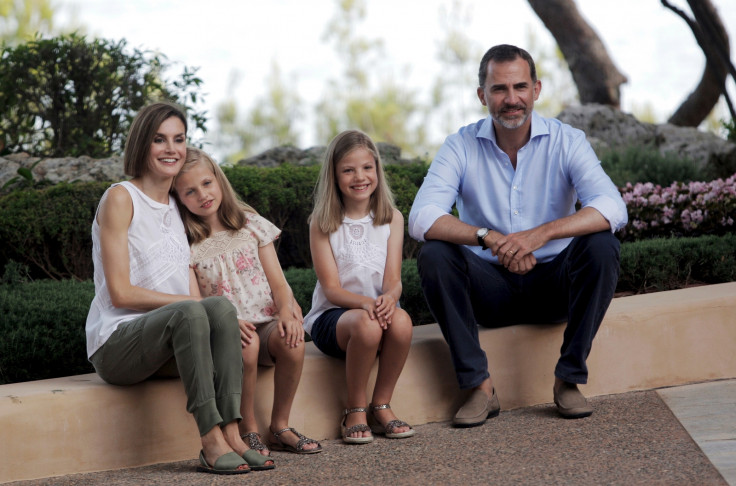 The Spanish royal family looked happy and relaxed when they took time out of their vacation in Majorca to take a series of family photos. King Felipe was also seen sailing during the 34th Cope del Rey Mapre race in Palma.
The family of four kept their look casual for the family portraits, with Queen Letizia sporting green khakis, matching sandals and Peter Pan collared white blouse. The royal couple's two daughters, 8-year-old Princess Sofia and 9-year-old Princess Leonor, matched their mother's outfit with similar tops and shorts, People reported.
Meanwhile, King Felipe wore a pale blue collared button down, navy pants and a broad smile. Two days after the photoshoot, the king, wearing a white and navy sailing outfit, was seen at the first engagement scheduled for the Spanish royal family's annual trip to Mallorca, the Daily Mail reported. He was aboard the Aifos, which competed the BMW ORC 1 class competition.
Felipe's wife and daughters did not attend the event.
According to the Daily Mail, the royal family has been staying at their holiday home, Son Vent, on the grounds of the Marivent Palace in Palma. The photocall on 3 August was the first time the 42-year-old queen was seen following the death of her grandfather, Francisco Rocasolano Camacho on 25 July.
The grieving monarch, her 47-year-old husband and their two daughters are expected to remain in Mallorca until the end of August. Unlike the family's trip to Mallorca last year, following Felipe's crowning, this year's visit is expected to be much calmer, the Daily Mail noted.