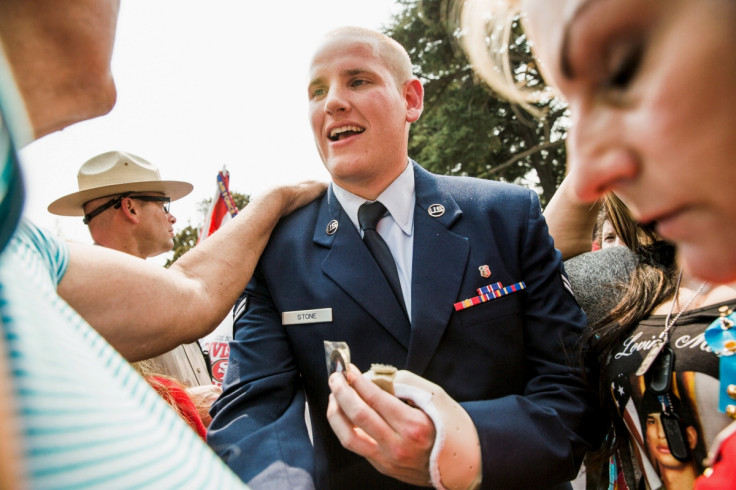 A US airman who helped thwart a terrorist attack on a French train has been stabbed four times in the chest. The attack against Spencer Stone, 25, was so brutal that police initially treated the case as homicide when they arrived on the scene.
It is understood that the serviceman was trying to protect a female friend when he was savagely assaulted on a street corner in Sacramento, California at 12:46am local time (8:46am BST). The incident was so bloody that two blocks of the street had to be cordoned off. Stone is in a stable condition.
"A1C Spencer Stone has been transported to a local hospital, and is currently being treated for injury," Air Force spokesman Lieutenant Colonel Christopher Karns said in an email. "The incident is currently under investigation by local law enforcement. He is currently in stable condition."
A tweet from Sacramento police said: "The assault incident is not related to a terrorist act. Assault occurred near a bar, alcohol is believed to be a factor." No arrests have yet been made and Sacramento police Officer Traci Trapani said that Stone is expected to survive.
US Air Force Airman First Class Spencer Stone was one of three Americans who helped foil a terror attack on a French train in August. He and his childhood friends Anthony Sadler and Alek Skarlatos tackled Ayoub El-Khazani, an AK-47 wielding gunman to the ground after he fired shots on the train. With assistance from Chris Norman, a British businessman, the men managed to tie down El-Khazani with a necktie. Stone had been stabbed in the attack and his thumb had nearly been severed, but he disregarded his own injuries to help a fellow passenger who had been struck by a bullet and was bleeding heavily.
The trio's heroic feat was recognised by French president, Francois Hollande, who accorded them with the Legion d'honneur, the country's highest honour. Sacramento's mayor tempore, Angelique Ashby sent a tweet saying that she was disturbed to learn that "one of our heroes was stabbed last night".
Writing on her Facebook page, Air Force Secretary Deborah James posted: "His injuries are serious, but he is in stable condition.
"Many of you know that he risked his life weeks ago to save many lives during a French train attack. The circumstances for today's incident are under investigation by the local law enforcement. Meanwhile, please keep him and his family in your thoughts and prayers."
Shocking footage of the moment Spencer Stone was stabbed has emerged online. The 29 second long video shows him being set upon in a violent street attack.
WARNING: Footage contains graphic content.