Britain's legendary Olympic ski-jumper Eddie 'The Eagle' Edwards has finally won a prize, emerging as the winner of the first season of ITV's celebrity diving competition, Splash! The 49-year-old will no doubt view the win with some delight. As Britain's first Olympic ski-jumper, Edwards is normally celebrated for his heroic failures, having crashed out in last place at the 1988 Calgary Winter Olympics. His nickname is enduring testament to Britain's love of irony.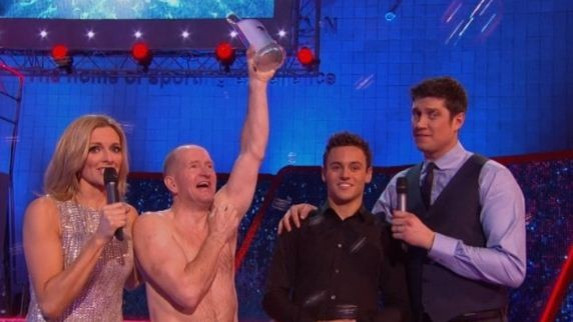 In the pool, Edwards saw off competition from Linda Barker, an interior designer, and actor Jake Canuso. The skier then thanked a "wonderful" audience: "It's been fantastic. Thank you for getting behind me."
Edwards impressed the judges with his first dive - scoring a maximum 30 points - a two-and-a-half somersault from the 10m board. Celebrity judge Lo Brand said: "You just need to master hang gliding and you could be the next Milk Tray man!"
Meanwhile, the judges were equally delighted after a special synchronised dive with Tom Daley, Britain's bronze medallist at the 2012 London Olympics. The effort was scored 59 from a possible 60 points. Finally, Edwards completed a hat-trick after collecting maximum votes from the public as well, leading to a unanimous win.
Daley, who mentored 15 celebrities for the reality television series, said he would love to come back for more.
"I don't know whether a second series is going ahead, but I'd love to be involved because it's a show that I've really enjoyed doing and something that I'd love to do as long as I can," the 18-year-old said, "I'd love to think diving can stay on primetime TV for as long as possible because I think it's something people can enjoy. The Olympics have really given the sports that don't have as many people watching them a bit of a boost."
Canuso, who came second, and Barker took to Twitter to share their experiences.
"Guys. Thanks so much for all the support and voting and 'rooting' for me. It's been amazing! I couldn't be happier. It's booze o'clock!!!!" Canuso wrote.
"Thank you for voting! Sorry I didn't win for you. Been amazing fun. You've been amazing. Thank you. Xxx," Barker tweeted.
The Calgary 1988 performance that earned Eddie 'The Eagle' Edwards his nickname is available on YouTube. Click below to watch.