Tottenham manager Andre Villas-Boas has revealed just how delighted he was with the way his players performed in their memorable victory over Manchester United.
Spurs had never won a Premier League game at Old Trafford, with Gary Lineker the last man to hand the north London club a victory in the old First Division, back in 1989.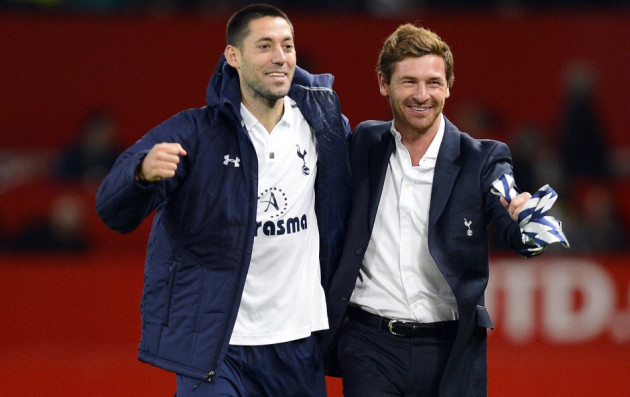 Goals from Jan Vertonghen, Gareth Bale and Clint Dempsey were enough to ensure a 3-2 victory over Manchester United and Villas-Boas declared he was proud of his players.
"We were tremendous today, the players put in the effort and intensity to get a result," Villas Boas told the Daily Mail.
"The first half was totally different from the second but we can be proud of each other.
"It was an electric first 15 minutes of the second half but you can see from the desire to hold on to such a historic result that we can count on each other to do big things."
It was not an easy game against an in-form Manchester United side and Tottenham's squad had been depleted by injuries and illness all week.
"Gareth was unable to train this week with the flu and (Gylfi) Sigurdsson has been ill the last two days, so the team are exhausted from the effort they put in," Villas-Boas told ESPN after the game.
"You have to give compliments to everybody on a special night like this but it doesn't stop here, we have so many important games to play.
"We go to (Panathinaikos) and we need a result to give us a strong position in the (Europa League) group, then we have Aston Villa two days after. It is important to continue from this."
There were reports that the Tottenham side was unhappy with the former Chelsea manager's style, but new signing and goalscorer Dempsey was quick to say how pleased he was with the display.
"It's awesome, it's always so difficult and it's the first time in so long so we're excited about it," said the former Fulham attacker.
"It was a rollercoaster, we did well in the first half to go 2-0 up. Then they scored, we answered quickly, they responded again and in the second half it was like chasing shadows.
"But we showed a lot of character, we ground out a result and we got three points."