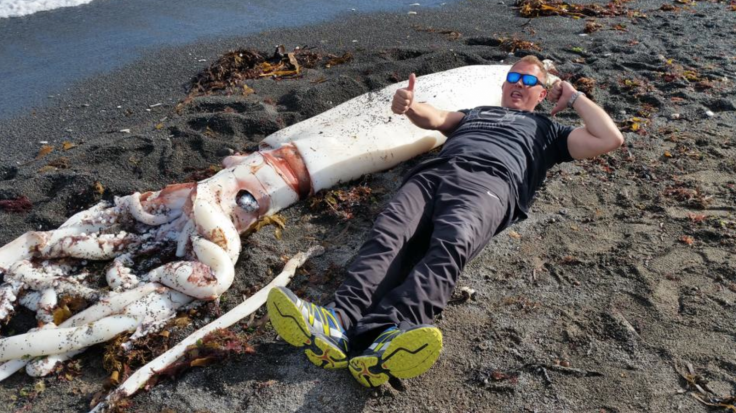 A giant squid washed up on a New Zealand beach this week, a local aquarium reported on its Facebook page.
The colossal cephalopod's body is more than two metres long, and its longest tentacle is just over 5 metres long.
The squid was discovered in the South Bay area of Kaikoura, a town on the South Island with a rich array of marine life.
Kaikoura Marine Centre and Aquarium posted photos of the squid on its Facebook page, along with excited updates on its size.
"A GIANT SQUID WASHED UP ON THE BEACH AT SOUTH BAY TODAY!" one post read.
"Before the birds got to it - we got help to move it to the aquarium where it is safe inside a freezer with glass windows so you can see it - on display until we can do more with it.
"The mantle itself is over 2m long with a 19cm eye diameter!
"The longest tentacle is just over 5m! What a beast!"
Bruce Bennet told local paper the Marlborough Express he was surprised to stumble upon the giant creature as he walked his dog along the shore at 8.30am.
Bennett told the paper that he assumed it had washed up on Tuesday night (12 May) as it wasn't there the previous day.
According to marine biologist and aquarium owner Megan Lewis, the squid was identified as a mature female but its age was unknown.
"They tend to grow very fast and live not very long," she told the Marlborough Express.
"The majority of its weight is in the head, which is in pristine condition," she added. "There's no indication of how it died - the stomach was full so it wasn't hungry."