Srebrenica 20 years on: Genocide denial is the 'stumbling block for Bosnia's post-war reconciliation'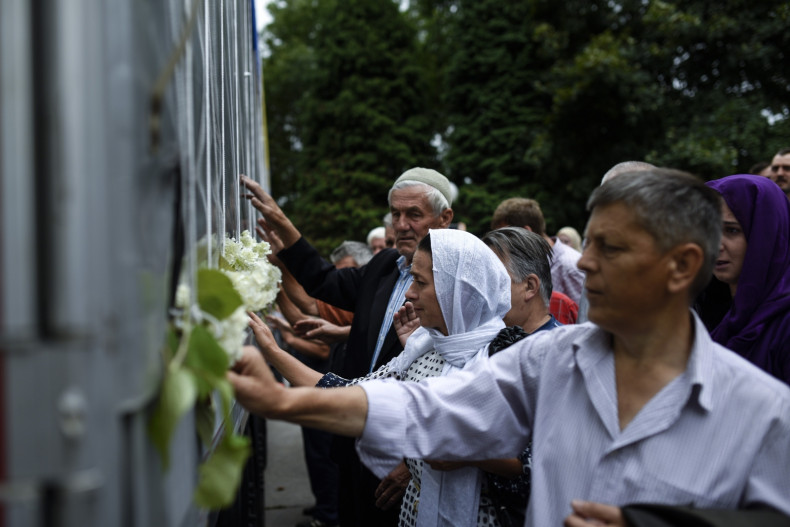 "Why didn't you save at least one member of my family?" a woman recalls asking her neighbours. "My brother, my father..." she continues, her face a picture of anger and despair. "Was anyone there at all?"
This is one of many similar stories in Srebrenica Survivors, a feature-length documentary by Bosnian-born director and producer Samir Mehanovic. It will be released on the 20<sup>th anniversary of the Srebrenica genocide, the worst atrocity in Europe since World War II.
War broke out in Bosnia in April 1992 after months of growing tension between Serbs, Bosnians and Croats. Bosnian Serbs, under Radovan Karadzic, laid siege to Sarajevo and began the widespread ethnic cleansing of non-Serbian inhabitants in eastern Bosnia.
In July 1995, Bosnian Serb forces took hold of Srebrenica, designated a UN "safe area" just two years before. Bosnian Muslim men and boys were rounded up for execution. Women were raped, tortured and forcibly displaced from their homes. More than 8,000 Bosnian Muslims, mostly men and boys, were murdered in the small mountain town in just a few days.
Mehanovic witnessed the arrival of refugees arriving in his hometown of Tuzla, around 50 miles north of Srebrenica.
"I remember so many people, mainly women and children, coming to Tuzla, and they were totally destroyed," he says. "We could not believe the stories we heard. It was impossible to believe that people could execute so many innocent people in five or six days."
Mehanovic, who now lives in Edinburgh, says witnessing this trauma was the foundation for his film. "Even a year after I started making the film, I still get emotional," he says. "I am a strong man, but talking about it reopens wounds. I met one woman who still cooks a big meal every night because she believes her family will come home."
Another woman Mehanovic interviewed had been raped during the fall of Srebrenica. She is still in hiding because the perpetrators of the crime, her neighbours, are now in the police force.
Despite no shortage of stories of the atrocity from survivors and witnesses, denial that the massacre constitutes a genocide is still prevalent. Mehanovic says he hopes the film will bring people closer to accepting what happened 20 years ago.
"When I was interviewing people I was crying," he says. "But people are denying the genocide ever happened, and denying the genocide is participating in genocide."
"It is not easy to live in Srebrenica"
Survivors who have returned to Srebrenica face further hardship with social deprivation widespread. The town, which is around 55% Serb, remains ethnically polarised. Although the peace agreement signed in 1995 ended the bloodshed in Bosnia, it sealed the country as an ethnically-fractured state. Bosnia and Herzegovina was split into two political entities: the Federation of Bosnia and Herzegovina, inhabited mainly by Bosniaks and Bosnian Croats, and the predominantly Orthodox Serb Republika Srpska – where Srebrenica is.
The unemployment rate remains high in Bosnia – over 40% – and it is a nation that also struggles with corruption and organised crime. As one of the poorest nations in Europe, it is struggling to keep up with its neighbours on the path to EU membership.
Rešad Trbonja, a resident of Sarajevo, worked for the UN and EU in the field of security, law enforcement and prosecution. He says the youngest generations living in Srebrenica two decades after the massacre feel lost.
"Jobs and opportunities for a normal life are very limited, due to ethnic divisions and lack of investment," he says. "It is not easy to live in Srebrenica, although young generations are trying. They have organised a children's choir, involving both Serbs and Muslims, a football team also mixed and number of other activities."
"Both Serbs and Muslims in Srebrenica share almost the same burden – Muslims for being victims of the genocide and needing to continue with normal life and Serbs for the obvious need to accept the fact that the genocide was committed in their name."
Anger and despair are both equally present, Trbonja says. "Anger in the sense that still, 20 years after the genocide, mothers are looking for the bones of their loved ones. Anger against those who know where remains lie, but no-one comes forward with information on mass graves."
Some are still fearful of returning, he explains, but those who have returned live on memories from the past. "They live with the memories that they can see every day while walking around their homes, seeing the places where their kids made their first steps, where they used to play and go to school. But anger has not led to revenge."
Only by accepting that the genocide was committed will allow both communities to move on from the past towards a better future, Trbonja says. "There will be no more space for division as there will be only one universal truth, which is, that genocide was committed in Srebrenica in July 1995."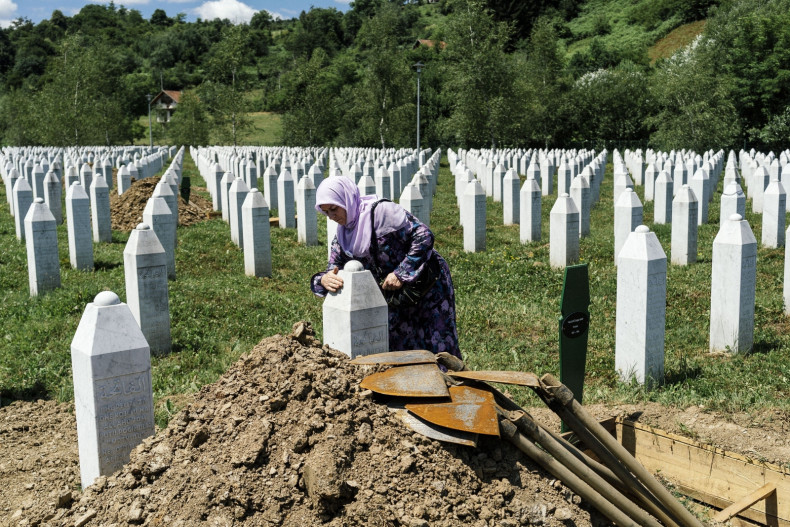 "A stumbling block for Bosnia's post-war reconciliation"
Both the International Criminal Tribunal for the former Yugoslavia and the International Court of Justice have recognised Srebrenica as a genocide. But discussion – arguments – over whether Srebrenica constitutes a genocide is still a point of contention that hinders reconciliation.
Although Serbian president Tomislav Nikolić officially apologised for the massacre, he stopped short of calling it genocide. One week ahead of the 20<sup>th anniversary, president of Republika Srpska Milorad Dodik claimed the Srebrenica genocide was a "lie".
Denial also runs deep within the international community. This week, Russia – a long-time ally of orthodox Serbs – vetoed a UK-written draft of a UN resolution that referred to Srebrenica as a genocide 35 times. Vitaly Churkin, the Russian UN representative, said the document was "anti-Serb" and was "not constructive, confrontational and politically motivated".
Dijana Jelača, of St John's University in New York, says the discussion over whether Srebrenica was a genocide is one of the "biggest stumbling blocks for Bosnia's post-war reconciliation."
"That discussion – and particularly the accompanying politicisation of the issue – frequently runs the risk of making everyone lose sight of the human tragedy that is at the core of it all," she says. "The contention is often used as a means for Bosnia's and the region's politicians to score political points with members of their own ethnic group in a way that makes it clear that meaningful reconciliation is not necessarily their main goal.
"Unfortunately, such political appropriation most certainly affects the memory of the genocide as well, again by displacing focus away from the human tragedy and more towards nationalist interests and further ethnic divisions."
Without reconciliation and ongoing tension, some fear lessons will not be learnt from the tragedy. "Can the world look at Srebrenica and say this will never, ever happen again?" Mehanovic asks. "Look at Russia and Ukraine. Can we guarantee we will not see thousands killed in days once again?"
The premier screening of Srebrenica Survivors will take place at My Face, Vilsonovo Setaliste 8, Sarajevo on 11 July 2015. The film will also be shown on BBC World and BBC Newsnight.