Sri Lankan UN peacekeepers accused of involvement in Haiti child-sex ring
More than 2,000 allegations of sexual abuse have been made against UN personnel over 12 years.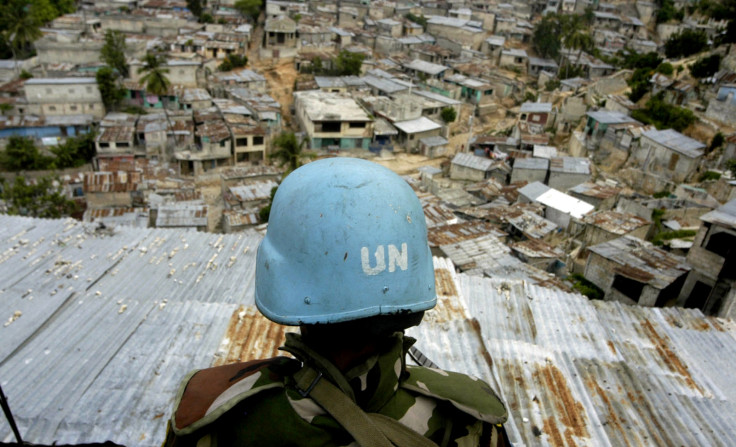 United Nations peacekeepers allegedly sexually exploited vulnerable people in Haiti they were sent to protect in a litany of horrific abuse.
The Associated Press reviewed UN data during a 12-year period from 2004, during which time there were nearly 2,000 allegations of sexual abuse globally.
These included 300 cases involving children by personnel from 23 countries.
Among the most egregious cases involved 134 Sri Lankan peacekeepers in Haiti allegedly sexually abusing nine children as young as 12 in a sex ring between 2004 and 2007.
The personnel were among around 900 Sri Lankan peacekeepers who had been part of a mission to bring stability to the impoverished Caribbean nation, which had been left reeling from the overthrow of President Jean-Bertrande Aristide.
The UN received complaints in 2007 of "suspicious interactions" between Sri Lankan soldiers and Haitian children with investigators interviewing nine victims as well as witnesses.
One 16-year-old said she had sex with a Sri Lankan commander, another who was 14 said she had sex with soldiers every day in exchange for money or food, while one boy said he had sex with more than 20 peacekeepers. The country continues to send peacekeepers to Haiti where the age of consent is 18. Some 114 of the personnel were sent home although none was imprisoned.
The UN report said: "The evidence shows that from late 2004 to mid-October 2007, at least 134 military members of the current and previous Sri Lankan contingents sexually exploited and abused at least nine Haitian children."
The AP reported how the Sri Lankan government had investigated 18 soldiers it said were implicated, and that "the UN Secretariat has acknowledged in writing, action taken by the Government, and informed that the Secretariat, as of 29 September 2014, considers the matter closed".
Sri Lanka's defence secretary, Karunasena Hettiarachchi, said: "People are quite happy and comfortable with the peacekeepers."
The AP reported UN data stating that there were 150 allegations of abuse and exploitation by UN personnel in Haiti between 2004 and 2016, out of the worldwide total of nearly 2,000, with victimizers also coming from Bangladesh, Brazil, Jordan, Nigeria and Pakistan.
The UN has no jurisdiction over peacekeepers requiring punishment to come from the countries that contributed the troops. In March 2017, the UN Secretary-General Antonio Guterres announced a crackdown on sexual abuse and exploitation by UN peacekeepers and other personnel.
"Let us declare in one voice: We will not tolerate anyone committing or condoning sexual exploitation and abuse. We will not let anyone cover up these crimes with the UN flag," Guterres said.
Earlier in April, the head of an advocacy group told IBTimes UK that the UN was not doing enough to address claims of sexual abuse by its peacekeepers in the Central African Republic.
© Copyright IBTimes 2023. All rights reserved.