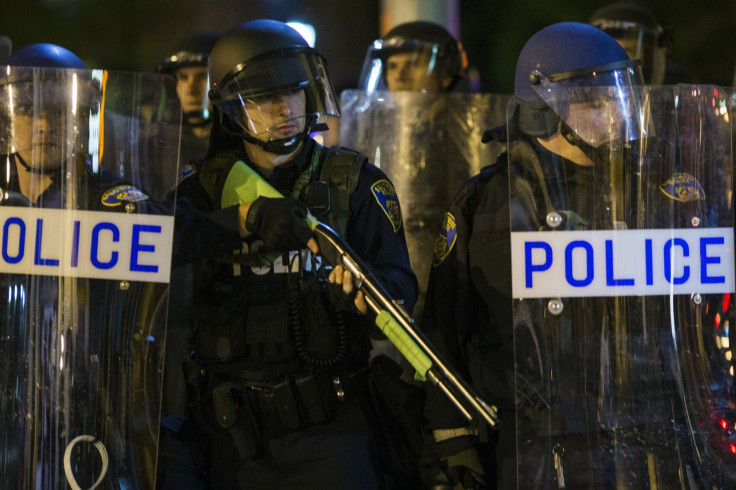 St Louis, Baltimore and Milwaukee have topped a list of cities with the highest rising murder rates in the US, as homicides across the nation sharply increase. At least 30 cities have reported a rise in violence this year with the latest figures obtained by the New York Times showing Milwaukee, Wisconsin, on the banks of Lake Michigan, has seen the biggest rise, with a 76% increase in murders.
US murder rate change from 2014*
Milwaukee
104 murders
+76%
St Louis
136 murders
+60%
Baltimore
215 murders
+56%
Washington DC
105 murders
+44%
New Orleans
120 murders
+22%
Chicago
294 murders
+20%
Kansas City
54 murders
+20%
* murders per 100,000 people, Jan-Aug 2015
Source: City police departments/Analysis by The New York Times
It is followed closely by St Louis, Missouri, which has seen a 60% increase in murders, and the troubled, Baltimore, Maryland, with a 56% rise. The three most dangerous cities in the US according to the new data were St Louis which had 43 murders per 100,000 people from January to August 2015, Baltimore (35) and New Orleans (31).
No credible theories have yet emerged as to what has caused the sharp rise in violence with factors likely varying from city to city. The US was forced into a nationwide debate last year after over the fatal shooting of black teenager Michael Brown by a white police officer in Ferguson, Missouri, with the use of police force and race relations criticised by factions of the local community.
In April this year Baltimore widespread riots engulfed the city for a number of days after the death of 25-year-old Freddie Gray, who suffered a fatal spinal cord injury in police custody, prompting riots that led to officials declaring a citywide curfew and deployment the National Guard. Six officers were charged in Gray's arrest and death with all of them pleading not guilty.
The deadliest US cities
St Louis
43 murders
Baltimore
35 murders
New Orleans
31 murders
* murders per 100,000 people, Jan-Aug 2015
Source: City police departments/Analysis by The New York Times
Some experts say that the rise in violence is due to "the Ferguson effect" – the theory that police officers have been withdrawing from everyday enforcement due to fears they could be charged. Heather MacDonald, a fellow at the US Manhattan Institute, told the Wall Street Journal, that officers told her police morale is at an all-time low and they are now worried about being charged or assaulted while trying to do their jobs. "Unless the demonisation of law enforcement ends, the liberating gains in urban safety will be lost," she wrote.
Other reasons could include an increase in gun ownership, a spike in gang-related killings and a younger generation more willing to settle disputes with guns. Milwaukee's police chief, Edward A. Flynn, said: "Maintaining one's status and credibility and honour, if you will, within that peer community is literally a matter of life and death. And that's coupled with a very harsh reality, which is the mental calculation of those who live in that strata that it is more dangerous to get caught without their gun than to get caught with their gun."